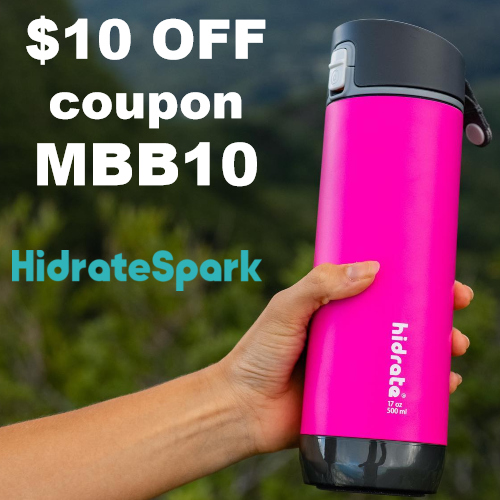 HidrateSpark believes in unlocking the power of water for optimal health, more energy, clearer skin, and a better life. Their Smart Water Bottles track every sip through the Free Hidrate App (for Apple and Android), which also reminds you when to drink and tracks your progress. If you misplace your bottle, the app's "find my bottle" feature lets you see where you left it on the map. Try their bottles for 30 days and if you are not completely satisfied, return it for Free!
Get $10 off a HidrateSpark Steel Smart Water Bottle, HidrateSpark 3 Smart Water Bottle or any of their Wave Powder Water Supplements (Electrolytes, Energy, or Immune Support using coupon MBB10.
Coupon is not valid on 21-ounce black or brushed STEEL bottles.
HidrateSpark STEEL Smart Water Bottle features:
• Glows remind you to drink throughout the day and can be customized by pattern and color
• Stainless Steel vacuum insulated keeps drinks cold for up to 24 hours, prevents sweating and allows for a pure water taste
• Tracks water intake, syncs via Bluetooth to the Free HidrateSpark App, and is interchangeable between bottles
• Rechargeable Battery with included fast charging cable
• Protective spout cover and lock to keep out dirt & germs and prevent spills
• BPA Free
HidrateSpark 3 Smart Water Bottle features :
• Tracks every sip & syncs to our free hydration app, powered by Bluetooth Low Energy
• Soft grip body to improve grip and minimize condensation
• Choose from 3 glow styles to match your needs / motivation
• The body and sensor stick are easily cleaned
• Syncs with most fitness apps to adjust goal accordingly
• Easy to change battery will last months
• BPA Free, Food Safe Tritan and Polypropylene Plastic
17