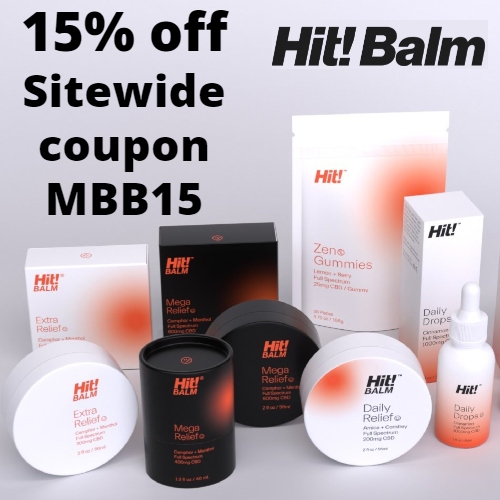 Hit Balm! combines organic CBD with centuries-old Chinese medicine to provide powerful relief and recovery through the healing power of plants.
Their hand-crafted topicals & drops are made with the highest-quality, medical-grade essential oils and proven practices of a 'Dit Da Jow' or 'Hit Medicine' recipe passed down from a Kung Fu master.
The Hit Balm! product line includes relief balms in multiple strengths, a Mega Relief Stick for on-the-go, gummies & oils that provide relief, a sense of calm & better sleep, bath bombs for ultimate relaxation & to ease sore muscles, and CBD oil for pets.
Get 15% off Sitewide at Hit Balm! using coupon MBB15. Shipping is $4.95 or Free on orders of $40 or more. All products are backed by a money back guarantee. Coupons are not valid on subscription orders.
Buying more than one product? Check out their bundle deals for extra savings. Many are over 20% off before coupon!
What is Dit Da Jow/Hit Medicine –
Dit Da Jow is a liniment that has been used for centuries by martial artists to aid the healing of injuries such as bruises and sprains and also Iron Palm training.
Martial arts masters blend their own mixture of aromatic herbs that are known to stimulate circulation, reduce pain and swelling, and improve healing of injuries and wounds.
There are several different recipes for Dit da jow, most of which are secret formulas that are passed down through oral and written history of traditional Chinese medicine and martial arts.
4