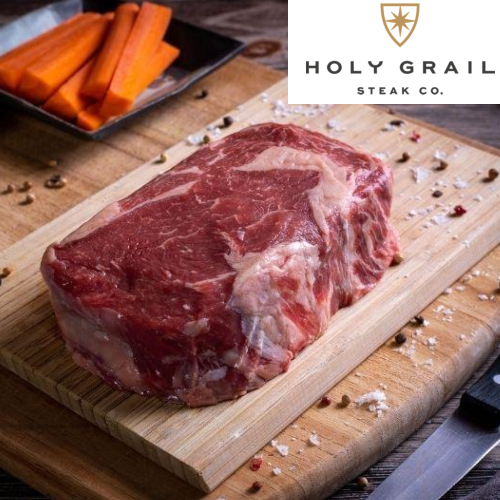 Holy Grail Steak Co. brings fine dining to the comfort of your home with their large assortment of premium steaks and burgers, including A5-grade Japanese Wagyu certified by the Kobe-Niku, American & Australian Wagyu, Upper Prime Black Angus, Santa Carota Carrot Finished Beef, Wagyu Burgers & Ground Beef, and more.
All Holy Grail Steak Co. beef is masterfully and humanely-raised with fanatical breeding, custom feeding protocols, and careful husbandry. They only partner with farms that honor the "Golden Rule of Cow" – a steak only tastes as good as it was raised.
In addition to their premium beef, Holy Grail Steak Co. also offers delicious miso marinated cod filets, New Zealand salmon filets, Sonoma County lamb, Italian black truffles in olive oil, and Kurobuta pork belly.
Fun Fact: Holy Grail Steak Co. is an exclusive supplier for Chateau Uenae's Hokkaido Snow Beef and Private Reserve offerings – some of the world's rarest beef!
Get 15% off Santa Carota Carrot Finished Beef at Holy Grail Steak Co. using coupon MBB15. Shipping is Free on orders of $199 or more.
Be sure to check out their Steak Flights & Gifts and Promotion & Deals. They have a great selection of steaks, chops & burgers from their Australian Wagyu, American Wagyu, Upper Prime, and Kurobuta Pork collections, as well as Surf & Turf and Sonoma County lamb at discounted prices. Some items are over $40 off before coupon.
2