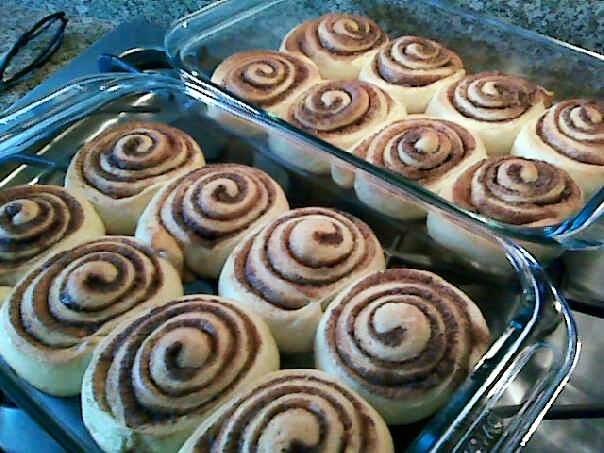 I LOVE cinnamon rolls! And no one does them better than Cinnabon. However, I'm cheap! I don't want to spend $4 on one roll. Plus, there never seems to be a location near me.
This post contains affiliate links. See my disclosure policy for more details.
The recipe below is loosely based on Todd Wilbur's copycat recipe from his cookbook, "More Top Secret Recipes".
I make the dough using a bread maker, which makes the process so much easier!
Roll Ingredients
1 (1/4 ounce) package dry yeast
1 cup room temperature milk (too hot or too cold will result in rolls not rising)
1/2 cup granulated sugar
1/3 cup unsalted butter
1 teaspoon salt
2 eggs (room temperature – put them in a cup of hot tap water for a couple minuted before you crack the shells)
4 cups all-purpose flour
Filling Ingredients
1 cup packed light brown sugar
3 tablespoons cinnamon
1/3 cup unsalted butter, softened
1 tablespoon of flour
Icing Ingredients
6 tablespoons unsalted butter, softened
1 1/2 cups powdered sugar
1/4 cup cream cheese
1/2 teaspoon vanilla
1/8 teaspoon salt
Directions
Step 1: For the rolls, dissolve the yeast in the warm milk in a large bowl. Add sugar, margarine salt, eggs, and flour, mix well.
Step 2: Knead the dough into a large ball, using your hands dusted lightly with flour. Put in a bowl, cover and let rise in a warm place about 1 hour or until the dough has doubled in size.
If using a bread maker, steps 1 and 2 can happen in the bread maker! Just follow your bread maker's instructions for the order ingredients should be added and select the dough cycle.
Step 3: After the dough has been given time to rise, roll the dough out on a lightly floured surface, until it is approx 21 inches long by 16 inches wide. It should be approx 1/4 thick.
Step 4: To make filling, combine brown sugar, tablespoon of flour, and 3 TBS of cinnamon in a bowl. Spread the softened butter all over the rolled out dough, then sprinkle the brown sugar, flour, and cinnamon mixture over the top, stopping about 1/8 of an inch from the edges.
Step 5: Starting on long edge closest to you, roll the dough down to opposite edge, tucking and tugging lightly as you roll.
Step 6: Cut the dough into 1 3/4 inch slices using a serrated knife. Place the individual rolls in a lightly greased 13″ x 9″ x 2″ baking pan. Let the rolls rise again in a warm place for 30-60 minutes until they have about doubled in size.
Step 7: Preheat oven to 350 degrees. Bake for 12-15 minutes or until light golden brown. Cooking time can vary greatly! It depends on how big your rolls are and if they are touching each other. Keep an eye on them.
Step 8: While the rolls are baking combine the icing ingredients. Beat well with an electric mixer until fluffy.
Step 9: When the rolls are done, spread generously with icing. Eat them warm!
Yield: About 16 Cinnamon Rolls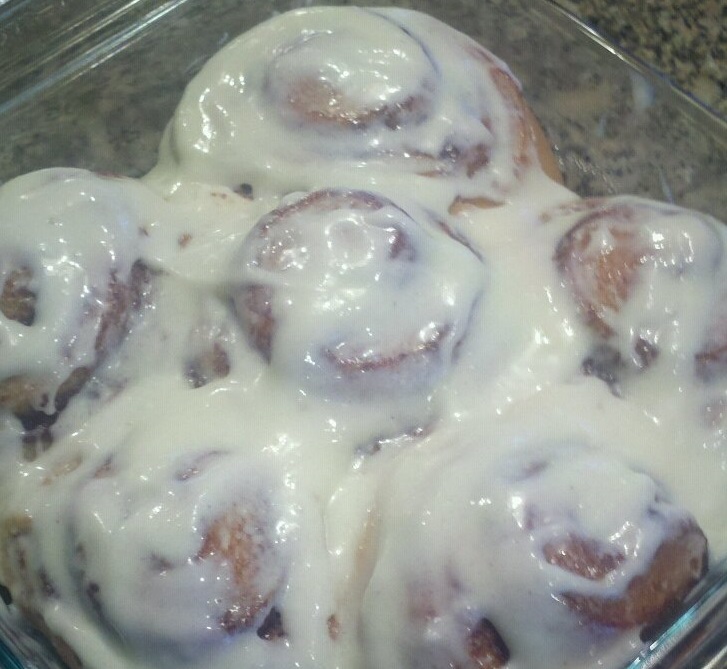 Sign up for my email newsletter to get recipes like this delivered to your inbox!
8