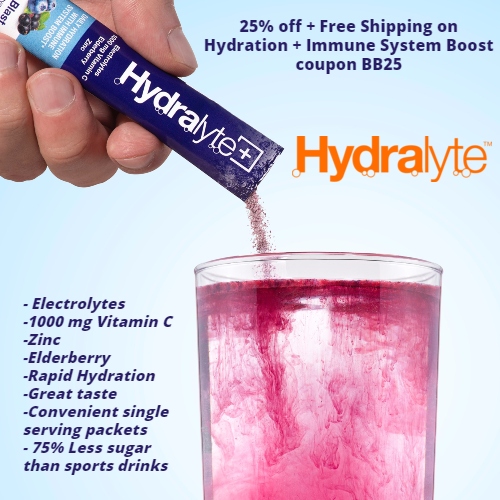 Did you know that 75% of adults are dehydrated and don't even know it? Dehydration can cause symptoms like dizziness, headaches, fatigue, brain fog, and irritability. Hydralyte provides an on-the-go electrolyte powder that can help! Their Hydration + Immune System Boost comes in single serving packets that are super convenient for fast hydration whenever & wherever you need it. Just pour one stick into a 7 ounces glass of water, let it fizz, and drink!
Hydration + Immune System Boost is packed full of immune boosting ingredients like Zinc, Vitamin C, and Elderberry as well as 7 Electrolytes for fast & effective hydration.
Hydralyte is trusted by the medical community, professional athletes, and families around the world. It is scientifically formulated with the right ratio of glucose and electrolytes to rehydrate you faster than water alone and has 75% less sugar than sports drinks + 4x the electrolytes for rapid hydration.
Hydration + Immune System Boost comes in two great flavors – Berry Blast & Citrus. Both are made with clean ingredients and contain no artificial colors, flavors, or sweeteners.
Get 25% off Hydration + Immune System Boost at Hydralyte using coupon BB25. Shipping is Free and Hydration + Immune System Boost comes with a 30-day satisfaction guarantee. Coupon is not valid on subscription orders.
1