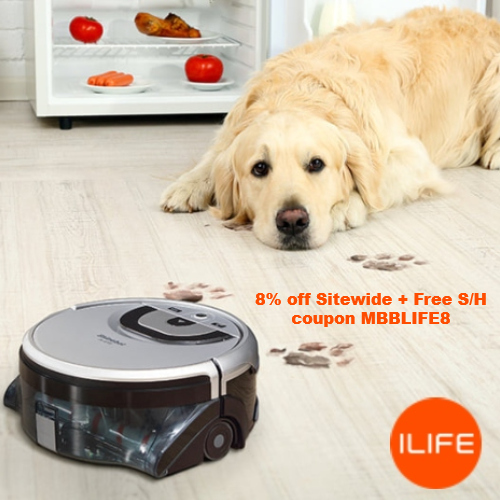 ILIFE offers robotic cleaners that make keeping your space tidy a breeze! Their range of robotic vacuums and mops efficiently clean hard floors and carpets with the touch of a button. They have multiple machines to choose from, so whether you're looking for something to take care of some light daily cleaning, tackle pet hair, or do a full vacuum and floor washing, ILIFE has a machine to get the job done.
Each ILIFE machine comes with its own great features to suit your needs. Some of them include:
– APP control on Wifi enabled machines that allows you to easily operate your machine from your phone. You can even designate areas you need to clean and areas to avoid on the ILIFEHOME App. The robot will guide itself according to your custom map.
– Auto Boost that automatically increases suction power in custom zoning areas to perform a deeper clean where you need it.
– Laser navigation that meticulously scans and maps your home to enhance cleaning efficiency.
– Customized schedules so you can set it to clean exactly when you need it to.
– Multiple cleaning modes to take care of different cleaning tasks.
– Up to 120 minutes of cleaning time on a full battery.
ILIFE also offers handheld & stick vacuums in their Easine line. These vacuums are sleek, versatile, light weight, and easy to use. They're great for tougher jobs and deep cleaning. Their innovative designs ensure they get the debris from all of the corners and crevices in your home and they easily switch from a stick vacuum to handheld for sofas, curtains, ceiling fans, and other hard to reach areas.
Get 8% off Sitewide at ILIFE using coupon MBBLIFE8. All orders ship Free – No minimum purchase required! All products come with a 1-year warranty and a 30-day money back guarantee.
Fun Fact: ILIFE's robotic cleaners rank as all-time Best Sellers on Amazon and are recommended by the New York Times, USA Today, Consumer Reports, and more!
4