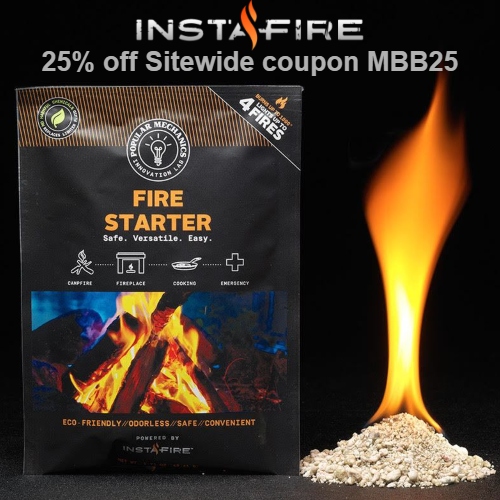 Instafire is a safe fire starter that lights easily, burns hot, and is water resistant. As seen on Shark Tank, Instafire Popular Mechanics Fire Starter packets are the outdoorsman's dream fire starter. It takes just seconds to get your fire started and it remains lit in harsh conditions such as rain, snow, and wind in excess of 20-30 mph. Instafire is perfect for campfires, cooking, and fireplaces. It's also a great addition to any emergency preparedness kit.
Instafire is made from a patented blend of recycled wood, inert minerals, and paraffin wax. It can light wet wood and burns up to 15 minutes. It also non-toxic, so it's safe for the environment & safe to store anywhere (even next to food!). The leftover is ash is actually a natural fertilizer that nourishes the earth! They also offer charcoal fire starters, fire logs, emergency prep products, and more.
Get 25% off Sitewide at Instafire using coupon MBB25. Shipping is Free on orders over $28.
2