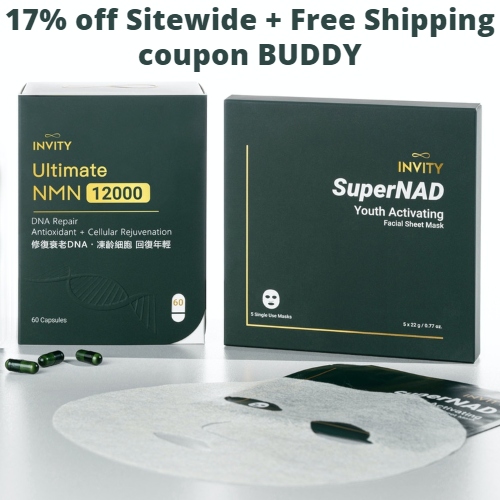 Getting older is inevitable, but with INVITY, aging can be optional. They are a science-based longevity brand that uses NAD+ technology to provide safe & effective clinical solutions to fight the effects of aging from the inside-out.
INVITY's premium skincare products are proven to support, repair, and protect your skin. Their Youth Activating Cream Concentrate, Instant Filler, and SuperNAD Sheet Masks are scientifically formulated to fight the signs of aging by nourishing, treating, and hydrating your skin to reduce fine lines & wrinkles and bring back your youthful glow.
Their cutting-edge, science-backed supplements help you to embrace aging while still feeling like your most youthful self by boosting energy levels, improving endurance, providing faster muscle recovery, improving your metabolic health, and promoting general well-being. Their line of supplements includes:
NMN+ with Biosirin – Rejuvenates cells, supports DNA repair, helps with concentration & focus, enhances endurance, boosts immunity, promotes muscle recovery, and maintains joint health.
Ultimate NMN 12000 – Instantly boosts your energy, helps tackle inflammation, enhances muscle strength, promotes healthy joints, helps maintain a healthy weight, promotes better sleep, and more.
Ultimate Polyphenols – A high strength eye & heart health supplement that protects eyes from blue light exposure, reduces light-induced stress & retinal damage, relieves symptoms of dry, tired eyes, helps maintain healthy cholesterol levels, and supports healthy blood flow.
Get 17% off Sitewide at INVITY using coupon BUDDY. All orders ship Free – No minimum purchase required! Coupons are not valid on bundles.
What is NAD+? –
NAD+ is one of the most progressive anti-aging and cellular repair agents available today. It is a helper molecule that plays a vital role in all metabolic processes. Studies have shown that it is a significant factor in regulating energy, metabolism, longevity genes, DNA damage repair, aging, cell death, and gene expression.
In clinical studies, results have shown that topical application of NAD+ precursor can improve the appearance of aging skin, such as reducing skin roughness, fine lines and wrinkles, hyperpigmentation, skin yellowing, pore size, and more. It also strengthens skin barrier functions and increases elasticity and hydration.
3