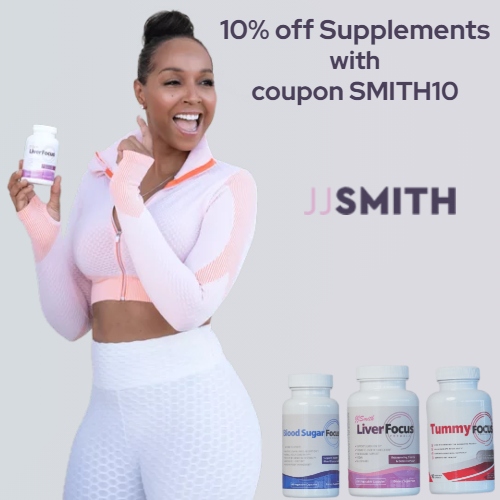 JJ Smith is a certified weight-loss expert, nutritionist, and #1 New York Times bestselling author. She has made numerous appearances on popular shows such as The Steve Harvey Show, The Jamie Foxx Show, and The View, and has also been featured in several publications, including Glamour, Essence, and Ladies Home Journal.
JJ's own transformation, which saw her regain her health, lose weight, and rediscover her vitality in her 40s, has inspired her to become a leading voice in the wellness community. Through her work, she offers practical lifestyle solutions that help people lose weight, improve their health, and enhance their love lives.
Her line of dietary and weightloss supplements are designed to support you on your own wellness journey.
Tummy Focus aids in cleansing the digestive tract, improves digestion, supports gut health, and helps increase regularity and relieve occasional constipation.
Blood Sugar Focus promotes healthy blood sugar levels and helps to maintain energy naturally.
Liver Focus naturally increases your body's fat burning capabilities and helps your body defend against harmful toxins found in everyday living.
Get 10% off JJ Smith Supplements using coupon SMITH10. Want to try all 3 supplements? They are available at a discount when you order the bundle.
4