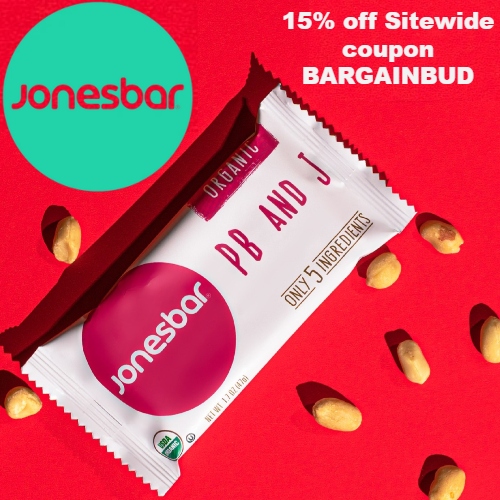 If you love the convenience of energy bars, but aren't keen on putting more processed foods in your body, check out jonesbars. They are about as close as you can get to eating whole foods in their most natural state. Handmade with organic dried fruits, nuts, and seeds, they are never baked or cooked in any way, and contain no added sugar, fillers, colors, or preservatives. Each bar only contains 5 ingredients!
jonesbars are available in a variety of delicious flavor, including peanut butter, chocolate peanut butter, dark chocolate almond, mango, coconut, banana chocolate chip, and their best-selling PB & J.
Get 15% off Sitewide at jonesbar using coupon BARGAINBUD. Shipping is Free on orders of $50 or more. Coupons are not valid on subscription orders.
Not sure which flavor to try first? Order their 6-bar sample pack for $12.75 + Free shipping with coupon BARGAINBUD.
1