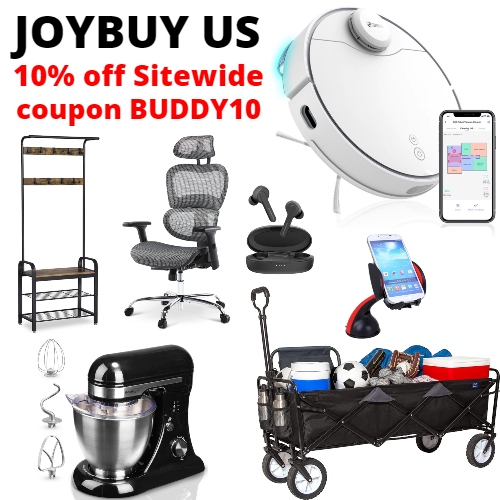 JoyBuy US is a leading e-retailer in North America headquartered in Irvine, California, with distribution facilities located throughout the entire United States. They are known for their excellent customer service and large variety of products, including small kitchen appliances, household appliances, kids' bikes & scooters, office essentials, home & office furniture, fitness equipment & sporting goods, electronics, and more.
JoyBuy US works closely with major retail brands and manufacturers and sells directly to consumers. By cutting out the middleman, they're able to offer competitive pricing on top quality products!
Get 10% off Sitewide at JoyBuy US using coupon BUDDY10. Be sure to check out their sale section – many items are already over 50% off before coupon! Shipping is $6.99 or Free on orders of $15 or more.
For a limited time, you can get 99% off a single item on this page with any purchase! Prices start at just 7¢! Products include chargers, cell phone & laptop accessories, LED headlights, dog collars and more. Limit 1 per order.
2