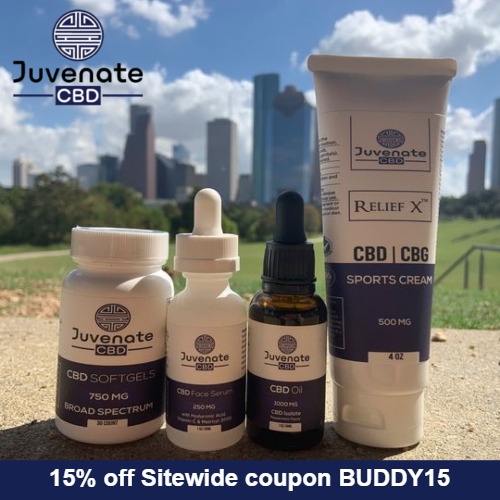 Juvenate CBD sells high-quality CBD products at affordable prices. Their hemp-derived CBD is sourced from Colorado and Oregon, made in the USA, and third-party lab tested for quality and safety.
Juvenate 1000MG CBD Oil Tincture is convenient, easy to use with a dropper that allows you to decide whether you want a half or full serving, or anything in between.
750MG Broad Spectrum CBD Softgels are the most convenient CBD option. Each softgel contains 25mg of CBD.
500MG VBD/CBG Sports Cream is an actual cream, not a glob that is difficult to spread onto your skin. There is also no overbearing smell like with similar products.
250MG CBD Face Serum contains Matrixyl (to stimulate the lower layers of the skin) and Hyaluronic Acid (reduces the appearance of fine lines and wrinkles), along with CBD.
Get 15% off Sitewide at Juvenate CBD using coupon BUDDY15. Shipping is Free on orders over $50.
2