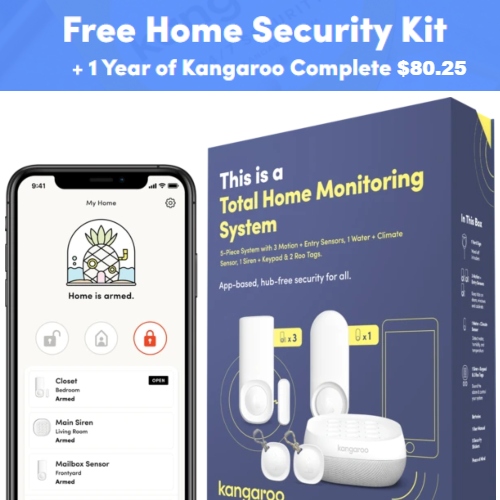 Kangaroo Total Home Monitoring Systems include all the devices you need to keep your home safe from break-ins or disasters. The Starter Kit requires no tools or professional installation. Once you've received your kit, all you need to get started is their Free Kangaroo Security app.
This kit is perfect for people that don't like the idea of having video cameras installed all over the place, but still want to be alerted if motion or entry is detected when they aren't expecting it.
– Get instant alerts to your phone when motion is detected or a door or window is opened.
– Siren can detect smoke and carbon monoxide alarms, then send an alert to your phone.
– Water leak, temperature and humidity alerts help prevent mold, mildew, frozen pipes or other costly issues.
Use coupon SECURITY30 to get 30% off the security system that's right for you!
8-PC Kit for Home/Office is $80.25 after coupon (excluding sales tax)
5-PC Kit for Apartment is $66.25 after coupon (excluding sales tax)
Your first year of Kangaroo Complete service is included in this purchase. Plan automatically renews for $99 after one year. You can easily downgrade to their Free basic plan or cancel your subscription in their app at any time, if you decide to discontinue their service.
2