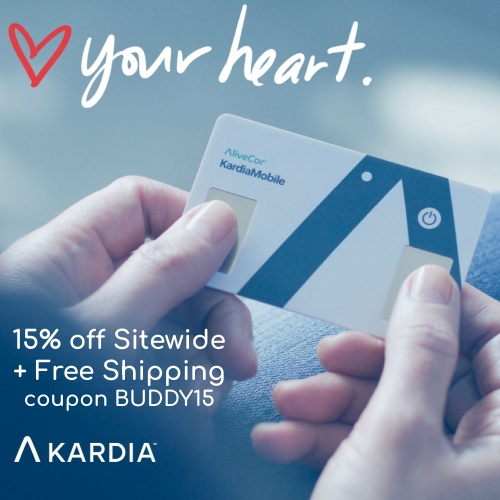 Proactively monitor your heart health with Kardia by AliveCor. Founded on the premise that anyone should be able to take medical grade EKGs wherever they might be, the Kardia Suite of products is designed to do just that.
Clinically validated, FDA-cleared, and FSA/HSA eligible, Kardia devices can detect up to 6 of the most common arrhythmias, allowing people to better manage their heart health and work with their doctors more effectively.
KardiaMobile® Card is as thin and light as a credit card, fits perfectly in your wallet, and records accurate, medical-grade EKGs in seconds simply by placing your fingers or thumbs on the electrodes.
KardiaMobile is a single-lead personal EKG that records medical grade EKGs right on your phone.
KardiaMobile® 6L is the world's only 6-lead personal EKG. It records EKG leads I, II, III, aVL, aVR, and aVF to provide more data and deeper insights on your heart rhythm.
KardiaCare is designed to help you get the most out of your Kardia device and provide you with deeper, more personalized insights about your heart health.
Get 15% off Sitewide at Kardia by AliveCor using coupon BUDDY15. All orders ship Free – No minimum purchase required! Devices are backed by a 30-day money back guarantee and a 1-year warranty.
Kardia devices are not tested or recommended for use with pacemakers and ICDs and they cannot check for heart attack.
4