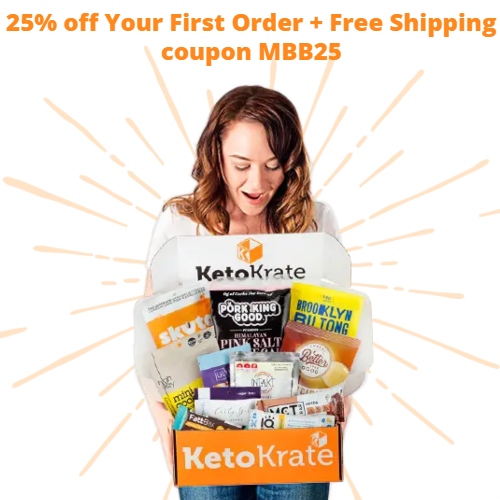 We all know the proven benefits of the keto diet, but sticking to a diet isn't easy! We all have cravings that are hard to overcome and finding keto snacks that fit in your diet, taste good, and are affordable can be a challenge – until now! Overcome your cravings and make keto easy with KetoKrate.
KetoKrate delivers a variety of delicious keto-friendly snacks straight to your door every month for one low price. Not every low carb snack makes their cut. They specially curate only the best tasting on-the-go keto snacks, so you can be confident you'll actually enjoy what you're eating!
The benefits of a KetoKrate subscription include:
• 10+ full-size keto snacks delivered monthly
• All snacks contain less than 5g net carbs per serving
• $20+ coupon savings in each KetoKrate
• VIP access to their member's only KetoShop™
• Cancel anytime with no cancellation fees
• Free U.S. shipping
• Only $39.99/month
Your first box from KetoKrate is only $29.99 + Free Shipping using coupon MBB25.
All snacks come with a 100% happiness guarantee. If you don't like any of the snacks they send, KetoKrate will send you new snacks or give you a refund – No questions asked!
April KetoKrates sold out! Join today to secure a May KetoKrate, shipping out May 3rd.
3