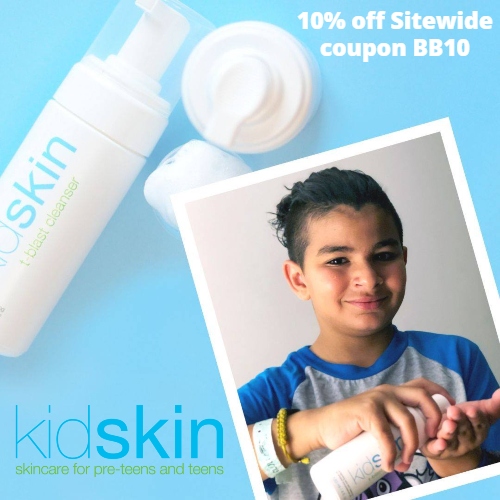 Kids have it hard enough these days without worrying about breakouts, dry skin, and sunburn! Kidskin offers skin care products for tweens and teens to help them create healthy habits early in life. Their safe, gentle and effective products are ideal for all skin types.
Their collection of kids' skincare products includes facial cleansers, moisturizers, acne clearing body wash, natural deodorant, sunscreen, and more. Their T-Blast Foaming Cleanser and 3-Step Acne Kit are fantastic choices for tweens struggling with breakouts and their Gentle Skin Moisturizer helps keep sensitive skin happy and healthy.
All Kidskin products are cruelty free, proudly made in the USA, and free of sulfates, parabens, gluten, and synthetic fragrances.
Get 10% off Sitewide at Kidskin using coupon BB10. Shipping is Free on orders of $75 or more. Coupon is not valid on subscription orders.
All products come with a 100% satisfaction guarantee. If for any reason you are not satisfied with any of your Kidskin products, they will refund your money.
More about Kidskin –
Kidskin started as an act of love when the Canepa family's 6 year old daughter, Jordan, developed acne. Jordan's parents were puzzled and eager find a cleanser to help their daughter. They soon realized that when it comes to acne-related skincare, most products contained ingredients that were far too harsh for Jordan's young skin.
Utilizing his business-savvy background in medical-grade skincare, Jordan's dad, Michael, worked with experts in the field, including a team of chemists and dermatologists, to formulate gentle and effective skin care products using tea-tree oil that were safe to use on his daughter's skin. Seeing the Jordan's amazing results, her parents decided to make their 3-Step Acne Kit available to other parents & children facing the same problems and the product line grew from there!
1