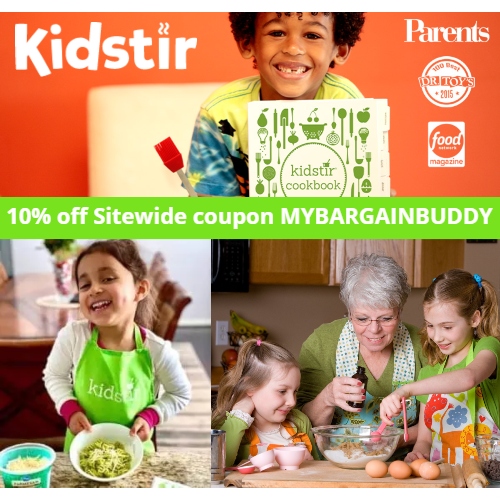 Watch your child's kitchen skills and confidence grow while making fun meals as well as memories that will last a lifetime with Kidstir monthly cooking kits. Kidstir hands-on cooking kits help youngsters get excited about cooking and eating healthy while providing a fun & meaningful experience for the whole family.
Each month brings a new box with 3 delicious step-by-step recipes, a printed grocery list that includes a digital link for dietary substitutions, a kid-friendly kitchen tool, and an activity-filled Foodie Fun magazine. Plus, you'll get access to cool kitchen hacks, cooking tips, family activities, and their exclusive parent Facebook group.
You can add on fun extras like aprons, mitts, kitchen utensils, and a buildable cookbook to store all your monthly recipes. Have more than one kiddo? You can add extra sets of kitchen tools for just $5 a month.
Monthly, quarterly, 6-month, and yearly subscription options are available. For the best deal choose, the yearly subscription. You'll save an additional $48 + your child will receive a Free apron & mitt. There are no commitments and you can pause or cancel anytime.
Want to try it out before you subscribe? Kidstir also offers a variety of cooking kits and all-in-one baking kits that are available for one-time purchase.
Get 10% off Sitewide at Kidstir using coupon MYBARGAINBUDDY. Coupon applies to the total of your first term on subscriptions, not just the first month! U.S. shipping is $4.99 per kit on one-time purchases and all subscription orders ship Free!
Kidstir kits are prepared with love at every step. Each kit is packed by their special team members at Elwyn, a foundation that provides education and job opportunities to adults and children with developmental disabilities. By supporting Kidstir, you are helping to empower these individuals with with a sense of fulfillment and independence.
Fun Fact: Kidstir has been praised by Food Network, New York Times, Allrecipes, and Delish and they are recognized as a "Top Subscription Box Service for Kids" by Parents' Picks Awards.
1