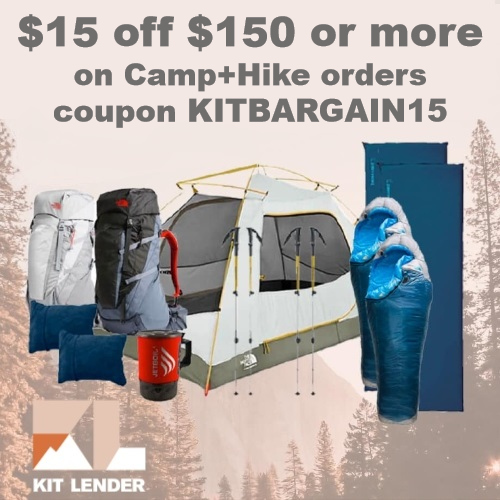 KIT LENDER is transforming the outdoor gear, apparel, and accessories rental industry by shipping the newest and best equipment directly to you – Wherever and whenever adventure strikes. With Free and easy shipping and returns, you'll save time and money, which is much better spent at the campground or following the trail. When your trip is over, simply send the equipment back in the pre-addressed packaging. You'll avoid the travel headaches and hefty airline baggage fees on your next outdoor trip by renting premium brands such as The North Face, Keen, Mountain Hardwear, Black Diamond, Yeti, Helinox, Therm-A-Rest, GSI Outdoors, Bombas, and more through KIT LENDER.
Their Camp + Hike KITs have everything you need for the perfect outdoor trip, including tents, sleeping bags, hammocks, chairs, backpacks, lanterns, stoves & cooking equipment, Yeti coolers, trekking poles, outdoor apparel, pet supplies, and more.
Get $15 off $150 or more on Camp+Hike orders at KIT LENDER using coupon KITBARGAIN15. KITs ship Free both ways!
KITs have a 3-day rental minimum and are available for 1-6 people.
4