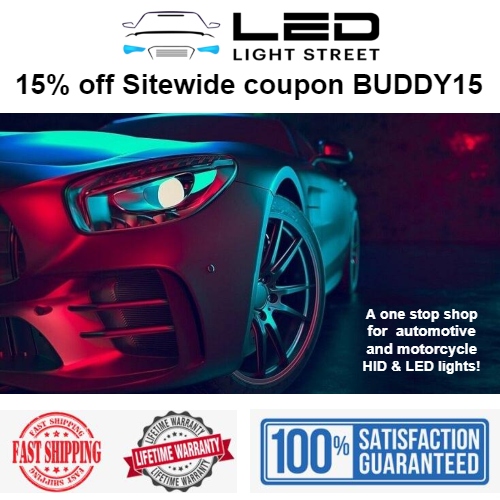 Are you upgrading your ride and in need of brighter headlights? Perhaps you have a hard time seeing in the dark and get a little nervous driving at night. Maybe you just have old headlights that could use an overhaul – If so, you should consider upgrading your existing halogen headlights with LED Light Street's HID headlights or LED headlights.
Their LED and HID lights are remarkably affordable, they look great on all vehicles, they produce a brighter, whiter light so you can see more clearly in gloomy conditions, and both types of headlights are super simple to fit and install. Typical car halogen headlights can become dull and need replacing regularly – HID and LED headlights are brighter, last longer, and draw less power than traditional alternatives.
LED Light Street carries HID conversion kits, LED headlight kits, replacement bulbs, and accessories for almost all vehicles. They are a one stop shop for both automotive and motorcycle HID & LED lights.
Get 15% off Sitewide at LED Light Street using coupon BUDDY15. All items come with a 100% satisfaction guarantee & a lifetime warranty. All orders ship Free – no minimum required!
2