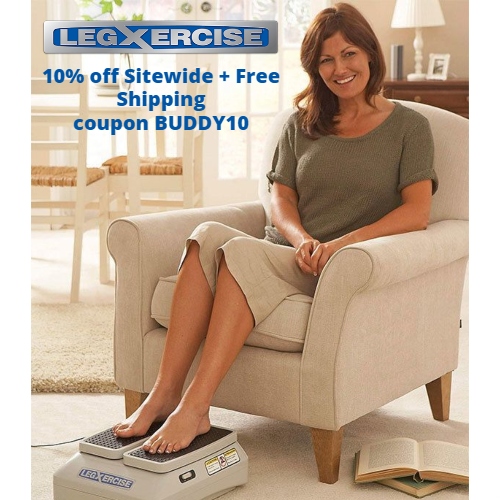 Lack of movement can cause health problems, including leg pain, tingling & numbness in your legs and feet, and aching that can seriously impact your everyday life. Say goodbye to stiff, achy legs and feet with LegXercise.
LegXercise's patented Walking Simulator Technology moves your feet back and forth along its motion track, creating constant movement and flex at the knee joint to naturally help stimulate healthy circulation. It's like having a physical therapist right in your own home!
Traditional exercise routines can be painful or downright impossible for some people. LegXercise allows almost anyone to exercise their legs comfortably. The best part is you use while sitting down, so you can get the exercise you need while relaxing on your couch and working at your desk. It's simple to use and ready to go right out of the box – Just plug it in, select your speed, and turn sitting into easy exercise.
Get 10% off Sitewide at LegXercise using coupon BUDDY10. All orders ship Free. LegXercise comes with a 30-day money back guarantee and a 1-year warranty.
2