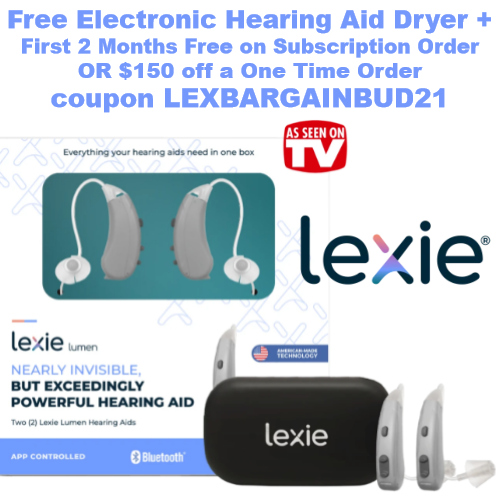 Lexie Hearing Coupon
Today: Free Electronic Hearing Aid Dryer + First 2 Months Free on a Subscription Order OR $150 off One Time Order
Coupon: LEXBARGAINBUD21
Expires: 9/30/21
ORDER NOW
Lexie Hearing, an innovative game-changer in the US hearing aid market, is on a mission to make healthy hearing accessible to everyone with an all-inclusive, affordable hearing care solution that includes quality, medical-grade hearing aids. The team at Lexie is passionate about helping people improve their hearing without having to spend thousands of dollars. Too many people do not wear hearing aids because they are so expensive, which is why Lexie Hearing® is changing the industry.
What really sets Lexie Hearing® apart is its competitive pricing. By leveraging smart technology and remote care, Lexie hearing aids deliver the quality and features expected from premium hearing aids, at 80% less than the average industry cost. Customers can either purchase a hearing aid with a one-time payment of $799 online or a subscription of only $49/month for 24 months.
Get a Free Electronic Hearing Aid Dryer ($69 value) AND either your first 2 months Free on a subscription order ($98 value) OR $150 off a one time order using coupon LEXBARGAINBUD21. All orders ship Free and come with a 45-day risk-free trial.
3