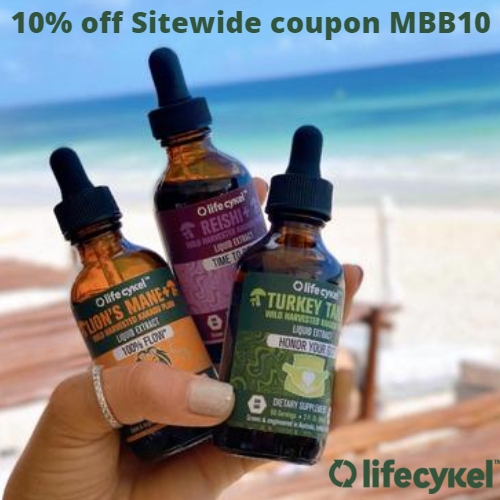 Lifecykel offers premium mushroom extracts and oral sprays that give your body and mind the support they need to improve vitality and longevity. Their products are specially formulated to help with things like focus, energy, gut health, immunity, relaxation, and more.
Their Double Liquid Extracts are carefully created to be some of the most potent mushroom extracts on the market. They are made with the highest quality, bioavailable mushrooms grown outside of China and include Chaga, Reishi, Cordyceps, Shiitake, Lion's Mane, and Turkey Tail mushrooms. To enhance the benefits of their extracts, they infuse these powerful mushrooms with Australian native, wild harvested Kakadu Plum, which is the highest natural source of vitamin C in the world.
Lifecykel Oral Sprays are effective and convenient. You can take them with you on-the-go for a deliciously refreshing uplift. All Oral Sprays are infused with Australian Lemon Myrtle – a powerful antimicrobial that has been used for centuries to treat mild illnesses such as coughs, colds, and stomach ailments.
Lifecykel also offers Wild Harvested Chaga and Kakadu Plum Tea. Paired together, these two ingredients provide you with an abundant source of antioxidants, which help protect your cells from damage by external stressors.
Not sure which extracts to try first? Check out their Value Packs. They've paired a variety of Liquid Extracts that complement each other and enhance the benefits of the mushrooms. Best of all, you get them at a discounted rate!
Get 10% off Sitewide at Lifecykel using coupon MBB10. Shipping is Free on orders of $100 or more. All products come with a 7-day money back guarantee. Coupon is not valid on recurring orders.
1