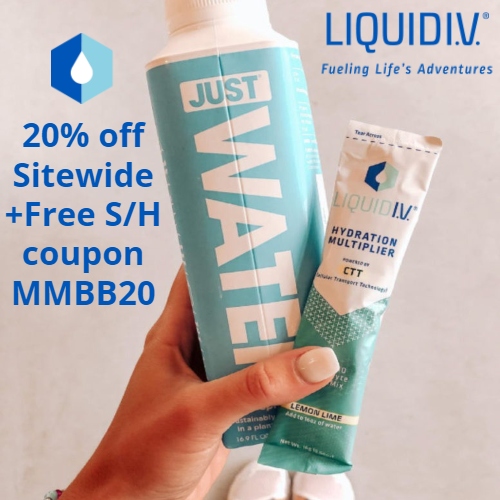 Liquid IV provides oral rehydration solutions that give you the hydration you need, fast! Their Hydration Multipliers are a great-tasting, natural drink mix powered by Cellular Transport Technology® (CTT) to deliver hydration to your bloodstream faster & more efficiently than water alone. 1 stick poured into 16oz of water can provide the same amount of hydration as 2-3 bottles of water alone. It also contains 5 essential vitamins and about 3x more electrolytes than sports drinks.
Typically, when you drink fluids, they pass through the entire digestive system, losing water before your body can absorb it. CTT uses a precise ratio of sodium, glucose and potassium to create an osmotic force that allows water to be delivered to the bloodstream earlier on in the digestive system, so you feel better, faster. CTT can provide hydration 2-3x faster and more efficiently than plain water.
Liquid IV offers four great Hydration Multipliers, each with their own benefits:
Hydration Multiplier – Their signature Hydration Multiplier contains 5 essential vitamins to keep you feeling your best: B3, B5, B6, B12 and Vitamin C. It comes in 7 great flavors – lemon lime, strawberry, acai berry, passion fruit, guava, and apple pie. Want to try them all? Liquid IV offers a variety pack so you can try each flavor.
Hydration Multiplier+ Immune Support – This cutting-edge blend comes in a natural tangerine flavor and is designed to maintain and strengthen the immune system. It contains 5x the daily value of Vitamin C and is combined with Zinc and Wellmune, a proprietary, naturally sourced beta glucan proven to help strengthen the immune system and maintain overall physical health.
Energy Multiplier – This revolutionary blend of Matcha, Guayusa and Ginger, powered by CTT provides delicious, sustained energy throughout the day. While Energy Multiplier contains roughly 100 mg of caffeine, which is equivalent to 1-2 cups of coffee, it's actually a much better option! It is high in antioxidants and the amino acid L-Theanine, which can improve mood and focus and comes in a delicious lemon ginger flavor.
Sleep – This great-tasting, Non-GMO nighttime drink mix is a fast-acting, drug-free natural sleep aid. Utilizing the same breakthrough science of CTT, it is designed to enhance rapid absorption of their Sleep Blend into the bloodstream. Their proprietary Sleep Blend contains Melatonin, L-Theanine and Valerian root to help you ease into sleep faster and wake up feeling refreshed.
Get 20% off Sitewide at Liquid IV using coupon MMBB20. Coupon will work on one-time orders and will also apply to your first month on a subscription order. Standard shipping is Free on all orders – No minimum purchase required! All products come with a 100% satisfaction guarantee.
Be sure to check out their bundles, which are up to 20% off before coupon! Can't find a bundle that has what you're looking for? No worries! You can build your own bundle to fit your exact needs.
In 2015, they donated 500 servings to a homeless shelter in Los Angeles. It wasn't a lot, but they knew they had to start somewhere if they wanted to make a real impact. The next year, they donated 28,000 servings to the people of Haiti. Their mission grew even larger. In 2018, they partnered with Direct Relief, one of the largest humanitarian organizations in the world, in order to expand their reach. With Direct Relief's help, Liquid IV sent their product to all corners of the globe. In April 2020, they donated over 2.3 million sticks to 1,800+ hospitals around the country to support all the frontline workers battling Covid-19. To date, they've surpassed 11 million servings donated globally.
More about Liquid IV –
Oral Rehydration Solution is used in developing countries and disaster zones all over the world where people are most in need of hydration. Liquid IV is based on the World Health Organization's guidelines for Oral Rehydration Solution, a rigorously-tested combination of sodium, glucose, and water known to combat the extremely undesirable effects of dehydration. The discovery of the sodium-glucose transport mechanism to increase absorption of water is considered to be one of the most important medical advances this century.
2