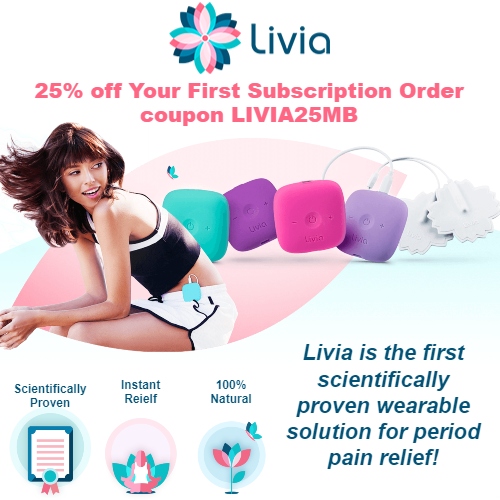 Say goodbye to menstrual cramps, costly pain medications, bulky hot water bottles, and waiting for pain to subside. With Livia, you can experience instant relief without the side effects and restrictions of traditional pain management solutions. Livia is the first scientifically proven wearable solution for period pain relief. It provides instant, drug-free relief from menstrual cramps with the touch of a button.
Livia has been proven effective in clinical trials and is strongly recommended by leading women's health experts. Their patented SmartWave™ technology is helping women across the globe overcome menstrual pain more effectively, quickly, and safely than with drugs. Using electric micro-pulses to tap into the body's natural pain defenses, Livia prevents menstrual pain from being felt. Unlike pain medications, there are no side-effects to using Livia and the female body cannot build a tolerance to it.
Livia is designed to clip comfortably and discreetly to your waistband. It's easy to use and can be worn discreetly under clothing. Once clipped, simply attach the electrode gel pads to your lower abdomen. With the press of a button, Livia gets to work immediately, stopping pain in its tracks. You can adjust the pulses to your preferred intensity with the -/+ buttons and enjoy safe, comfortable, discreet relief that moves with you – so you can get on with your day, pain-free!
A Livia subscription allows you to relax and enjoy your Livia, forever! They make sure you have everything you need to always enjoy the full Livia experience. Subscriptions are easy and affordable. It's only $25.50 to start with coupon LIVIA25MB and just $8 per month after that. Another bonus – shipping is always Free!
Your subscription will include:
• A full Livia kit with all the accessories
• Ongoing supply of gel pads – Shipped directly to you when you need them
• Lifetime warranty that covers everything – the device AND the accessories
• A Free Livia kit every 3 years – so you always have the latest version of Livia
• Free shipping worldwide
• A special Free gift
Get 25% off Your First Subscription Order at Livia using coupon LIVIA25MB.
Livia offers a 120-day money-back guarantee. A 4-month minimum subscription is required. You may return your Livia and cancel the subscription at any time 4 months after purchase.
7