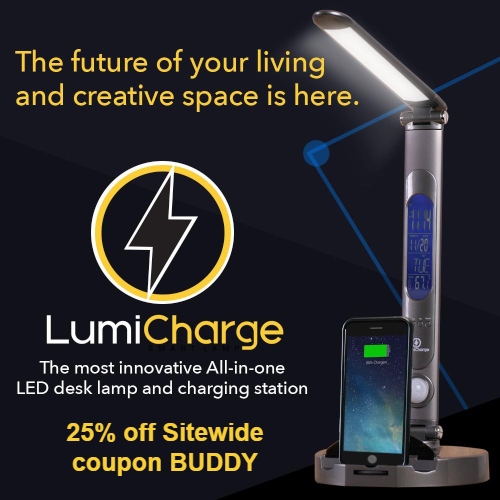 LumiCharge sells smart lamps your home and office. LumiCharge Lamps feature a built-in universal phone charging station, an LED lighting system that contains three different hues and ten levels of brightness, an LED screen that displays helpful information like the time, date, and temperature to keep you on time and prepared for most anything, and a built-in motion sensor so you never have to worry about running into anything in the dark again – When you enter a dark room the motion sensor will light up to show you the keys to turn on the LumiCharge. Their modern and sleek design is multi-functional and space saving, to help you declutter your desk and end tables.
The LumiCharge T2W LED Lamp is equipped with a Bluetooth speaker and the LumiCharge LD Desk Lamp/Wireless Speaker includes voice control through Alexa and Google Assistant so you can listen to music, charge your phones, ask Alexa and Google questions and light up the room!
For spaces that don't need a lamp, LumiCharge also offers a Fast Qi Wireless Charger Stand with a universal phone dock, and a bluetooth speaker charging station that includes their universal charging dock, and display to keep your day organized with date, time, calendar, and a dual alarm.
Get 25% off Sitewide at LumiCharge using coupon BUDDY. Shipping is Free on orders over $150.
3