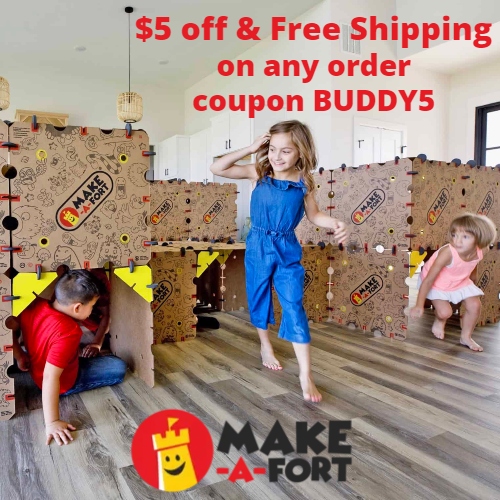 Looking for a way to entertain your kids and reduce screen time? Check out Make-A-Fort. Their super fun Explorer Kits provide endless hours of imaginative, engaging play. Your kiddos can build and play inside incredible forts, castles, mazes, tunnels, and more.
Creative play, like building & playing in forts, has tons of developmental benefits, including:
– It builds your child's confidence as they see the amazing forts they've built themselves
– It challenges their imagination as they transform their room into a kingdom, the wild west, or a city for a day
– It improves spatial, fine-motor, social & problem-solving skills
– It improves hand-eye coordination
– It reduces screen time by giving your kids a fun, real-world alternative
Make-A-Fort Explorer Kits come complete with everything kids need to start building! They are made in the USA using heavy duty corrugated cardboard that is strong, durable, and eco-friendly.
One kit is usually enough for children 5 and under. Two to three kits are recommended for children 6 and older and for multiple children to allow them to build forts big enough to play in.
Get $5 off & Free Shipping on any order at Make-A-Fort using coupon BUDDY5. Explorer Kits come with a 14-day money back guarantee.
The more you buy, the more you save! You can save up to 46% when you buy multiple kits.
Need some building inspiration? Check out the Projects tab for some great examples from their Grandmaster Fort Designer!
3