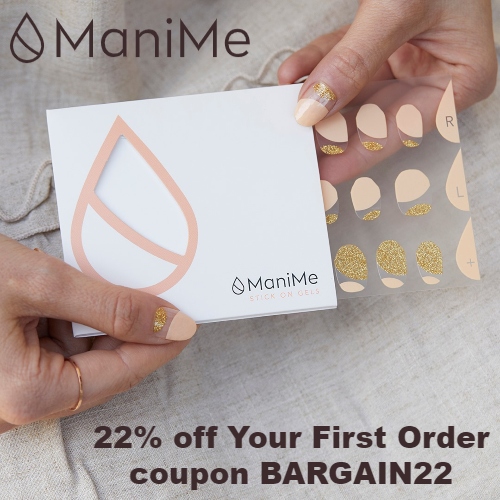 ManiMe offers award-winning stick-on nail gels that are custom fit for you, so you can have beautiful salon quality nails without spending your precious time and money at high priced nail salons. They can be self-applied or removed in moments, making time-consuming and damaging treatments a ritual of the past.
Using 3D modeling, their manis are hassle-free and easily applied anytime, anywhere. All you have to do is take 5 simple photos of your hand, select your favorite designs from their gallery of professional nail art, and in a few days ManiMe will deliver a set of custom-fit manis straight to your door!
Your manis will easily last 10-14 days and you can keep them looking fresh with a new file as needed. You can prolong the life of your mani gels by applying their Max Top Coat after application – which comes Free with your first order.
ManiMe can be applied in less than five minutes and removal is even easier! Just peel them off in seconds and you're ready for your next set. No more harsh chemicals, UV lights, and painful gel removal. Unlike many other nail products ManiMe's manis are non-toxic and cruelty-free.
Get 22% off your first order at ManiMe using coupon BARGAIN22. ManiMe offers a 30-day 100% happiness guarantee. Shipping is Free when you buy two or more sets of manis.
ManiMe's are great for kids! They can be custom made for the smallest nails and you don't have to worry about your little one breathing harmful chemicals at a salon.
3