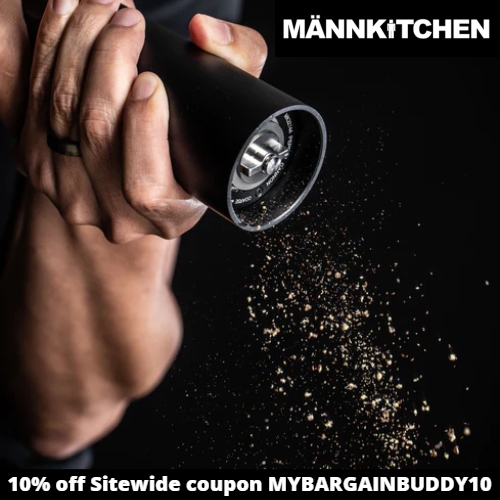 MÄNNKITCHEN offers professional grade kitchen essentials that are designed to make cooking easier and more efficient. Their products are expertly designed, crafted with the highest quality materials, and built to last.
Their best-selling Pepper Cannon quickly & easily produces huge amounts of fresh ground pepper – as course or as fine as you want it! Most pepper mills can only grind pepper in the 12-28 mesh size range. The Pepper Cannon can grind from 8-60 and it has 10X the output of other top-rated mills, which means a lot less cranking for you.
You can pre-grind up to ⅓ cup of pepper into the base for easy one-hand seasoning – No need to wash your hands mid-seasoning after flipping your raw steak. When it's time to refill the peppercorns, the intuitive push-button enabled top is easily removed & replaced without messing with your grind setting or needing to be readjusted.
The Pepper Cannon would make the ultimate gift for the foodie in your life!
MÄNNKITCHEN also offers a Salt Cannon with all the same great features as The Pepper Cannon, as well as a variety of premium peppercorns.
Other products you'll find at MÄNNKITCHEN include stainless steel spatulas with precision beveled edges, the exceptionally sharp MK9 chef knife that makes slicing & chopping a breeze, heavy duty kitchen scissors, a double lever garlic press that can effortlessly mince multiple garlic cloves at once, a powerful magnetic knife strip to keep all your kitchen tools organized & easily accessible, extra large oven mitts, and more.
Get 10% off Sitewide at MÄNNKITCHEN using coupon MYBARGAINBUDDY10. Shipping is Free on orders of $40 or more. Coupon is not valid on peppercorn subscriptions.
Fun Fact: The Pepper Cannon has had over $2,250,000 in sales on Indiegogo!
1