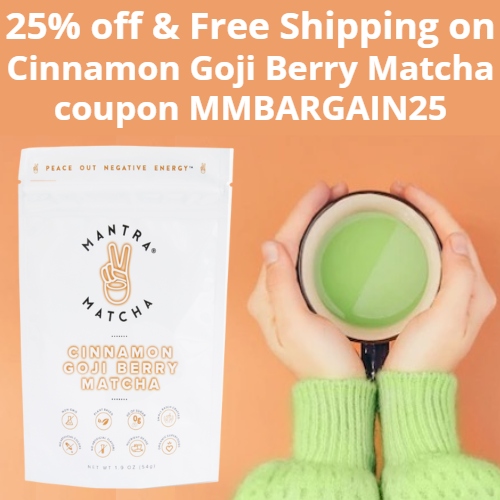 Mantra Matcha offers premium-grade ceremonial matcha infused with super foods to give you a super healthy & delicious tea.
Their Cinnamon Goji Berry Matcha is the perfect blend of top-shelf matcha, cinnamon, and goji berries. It is a fragrant tea with hints of sweetness in each sip. This one-of-a-kind combination of superfood ingredients packs a ton of nutrients & health benefits into one delightful cup of tea.
Benefits of each ingredient include:
Super Premium Ceremonial Matcha – A superfood powerhouse form of green tea loaded with nutrients, antioxidants, and a variety of health benefits, including immunity, energy, gut health, increased metabolism, and more. Matcha contains less caffeine per serving (33mg) than a standard cup of coffee (95mg) and is the perfect coffee replacement and anytime pick-me-up.
Organic Goji Berry – This superfood is loaded with high levels of vitamin A and C, plus fiber and antioxidants. Goji berries are known to slow the signs of aging, support eye health, and strengthen your liver.
Organic Cinnamon – In addition to it's delicious flavor, cinnamon is also known for its medicinal properties. For thousands of years, cinnamon has been used to treat a variety of ailments and science has shown that it can lower inflammation, improve heart health, assist with weight loss, lower blood sugar, minimize menstrual cramps, and improve brain function. Cinnamon also stimulates collagen production, which can improve skin elasticity and promote a youthful appearance.
Fun Fact: Matcha's powder form makes it an extremely versatile tea! You can use it to make lattes, smoothies, mix it in to your morning oatmeal or yogurt, and even use it in baking! Check out the recipes on their site for some inspiration!
Get 25% off Cinnamon Goji Berry Matcha at Mantra Matcha using coupon MMBARGAIN25. All orders ship Free – No minimum purchase required!
Not sure matcha is for you? No worries! Their Cinnamon Goji Berry Matcha comes with a 100% money back guarantee.
6