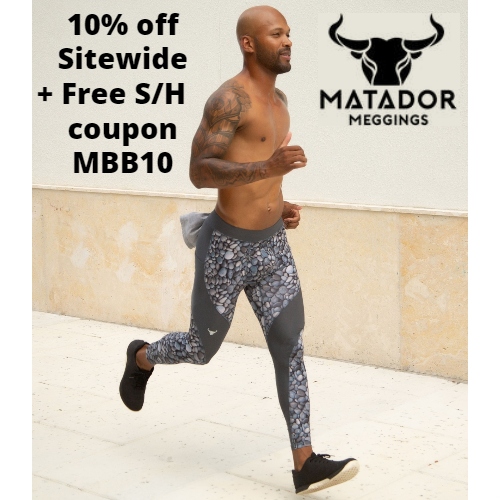 Leggings aren't just for women anymore! Now men can enjoy the style & comfort of a great pair of leggings with Matador Meggings. They have re-engineered leggings for the male anatomy and the modern man's needs with sweat-wicking performance fabric and bold designs are that great for the gym and the streets.
Matador Meggings feature a soft molded concealing crotch cup so you no longer need to wear shorts over your leggings/compression pants, an open pocket for your phone, a zipper pocket for valuables, and a convenient shirt/towel loop on the back to hold your gym towel or t-shirt when you go for a run.
Matador also offers compression shorts with the same great designs and features as their Meggings and performance tanks & t-shirts that are sweat-wicking, odor-free, incredibly light, and smooth & silky. They come in many popular colors and are great for intense workouts as well as everyday streetwear.
Get 10% off Sitewide at Matador Meggings using coupon MBB10. Be sure to check out their sale section. Items are already up to 40% off before coupon! All orders ship Free – No minimum purchase required!
All Matador apparel comes with a 30-day satisfaction guarantee. If you don't like the fit or decide what you ordered just isn't for you, you can send it back for a refund or exchange. Return shipping is Free on exchanges. To be eligible for a full refund or exchange, your item must be unused (other than trying it on quickly for size) and in the same condition that you received it.
Benefits of Matador Meggings –
Wearing compression pants during physical activity has been proven to be incredibly beneficial for your body, performance, and recovery. The compression stabilizes your muscles while you train and it increases blood flow and muscle oxygenation, which speeds up the muscle repair process and reduces muscle fatigue after workouts.
Getting oxygen to your muscles is critical for optimal performance during workouts. More oxygen means more energy and power. Compression pants like Matador Meggings also act like a shock absorber, reducing vibrations in skeletal muscles when you run, which can help prevent muscle trauma.
Compression leggings and tops give you complete flexibility and freedom of movement and they help you improve your technique, since they let you see the biomechanics of your movements.
1