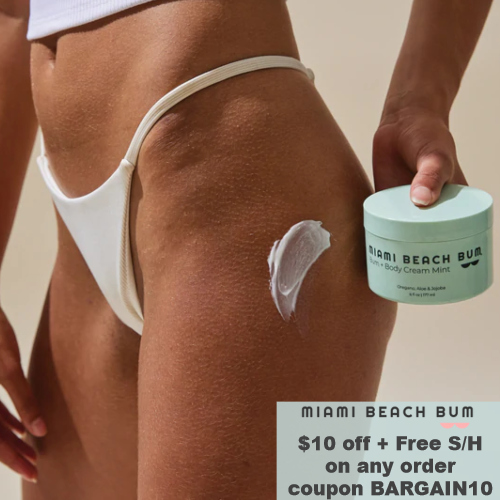 Miami Beach Bum offers marine scientist-backed clean beauty products for your entire body. Their formulas are mindfully crafted using microbiome science to restore the overall health of your skin by working with your skin's natural biology.
Miami Beach Bum products contain clean botanicals and minimal ingredients that balance your skin's microorganisms and replace beneficial metabolites like vitamins, nutrients, and essential fatty acids. Each formula is blended at the optimal pH (5) to fortify the skin's barrier, working to plump and protect your skin. Their easily absorbed, plant-powered products will give your skin a full reset.
The Miami Beach Bum product line includes:
Bum + Body Cream – Their top-selling, results-driven Bum + Body Cream is a daily moisturizer & go-to spot treatment for healthy skin. Formulated with aloe and oregano to balance the microflora in your skin's microbiome, it alleviates irritation and gives your skin a full reset. This cream is a great solution for dry & dull skin, folliculitis, acne, eczema, psoriasis, keratosis pilaris, ingrown hairs, razor burn, and more. It is available in lemongrass, mint, and orange scents.
Face + Body Spritzer – Give your face & body a revitalizing glow with this 3-in-1 face toner, deodorant, and perfume. Mist on after your morning skincare routine for a dewy finish or use it as the perfect reset for those in between times post-beach and workout, or from work to happy hour.
Leave-In Hair Conditioner – Rich and nourishing to protect and repair hair strands from the inside out, this leave-in conditioner is thoughtfully formulated with coconut oil and biotin to deeply hydrate and strengthen the hair and scalp. Reef-safe, this product can be used to shield the hair from the damaging effects of sun, salt, and chlorine, or as a repairing mask in your hair care ritual. Say goodbye to split ends and hello to healthy, hydrated hair.
Natural Insect Repellant – We all love being outdoors, but bugs can be a pain! This natural bug repellent puts in the work so you can enjoy every moment. Formulated with a base of sunflower oil, it's infused with herbs and citronella that will keep pesky insects away.
Ski Bum – This cream is great for dry skin types and dry climates. Pamper dry & stressed-out skin in this antioxidant-rich face cream for instant hydration. Aloe, jojoba, hyaluronic acid, and squalane nourish and fortify your natural skin barrier, while calendula soothes redness and irritations. Mint and basil cleanse and tighten pores for a refreshingly hydrated feel.
The Facial in a Jar – Fine lines, dryness & blemishes have met their match! Facial in a Jar is a rich, deeply moisturizing and fast-absorbing face cream packed with Vitamins A & C. Aloe and squalane work to hydrate, soothe and fortify your skin barrier, while lemongrass helps to minimize pores, fine lines, excess oil and blemishes. It is great for all skin types and can be used day or night.
All Miami Beach Bum products are vegan, cruelty free, and free of sulfates, parabens, phthalates, silicone, dyes, and artificial fragrances.
Get $10 off your order at Miami Beach Bum using coupon BARGAIN10. Carbon neutral shipping is Free on all orders. Bum + Body Creams come with a 30-day money back guarantee for new customers. All other products are final sale.
If you want to try more than one product, sets are available!
2