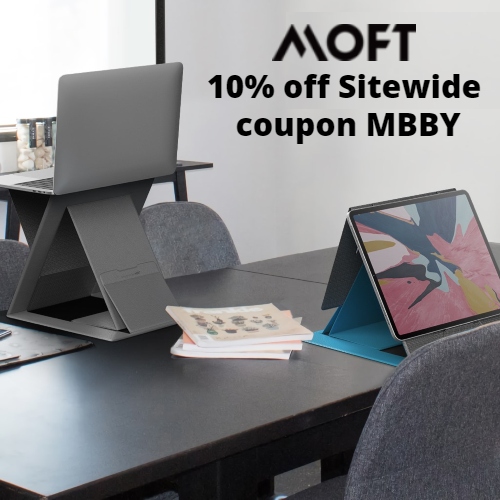 Moft (an acronym for "Mobile Office for Travelers") creates portable, compact, easy-to-use laptop stands, tablet stands, and phone stands, as well as other productivity enhancing accessories that enable you to work from anywhere more efficiently and with less equipment.
Portable devices have given us the flexibility to work anywhere and everywhere, but with that freedom can come discomfort, like shoulder and neck pain, and let's not even get started on improper posture! Noticing the market was full of laptop stands that were bulky and not easy to travel with, Moft decided to change that by creating solutions that are lightweight and portable.
Their unique products allow you to create a comfortable workspace wherever you are and their sleek, lightweight designs make them super easy to carry and set up. Constructed with special PU and fiberglass material, the Moft Laptop Stand is strong and stable enough to hold up to 18 lbs. The built-in magnets allow you to unfold the laptop stand quickly and securely attach it to a flat surface. When using their laptop stands, you can easily find an ideal height and posture with their unique double angle adjustments that allow for a seated or standing position.
Moft has many different products to choose from that will allow you to create the perfect office space for your needs, including their classic laptop stand, a 5-in-1 sit-stand desk, a 2-in-1 laptop stand & mouse pad, snap on tablet stands, phone stands in many different styles & colors, a tri-folding Bluetooth keyboard, hands-free sling cases, silicone cable organizers, and much more.
Get 10% off Sitewide at Moft using coupon MBBY. Shipping is $5 or Free on orders of $69 or more.
Be sure to check out their Work Anywhere Bundles )up to 27% off before coupon) and Summer Deals (up to 33% off before coupon)!
7