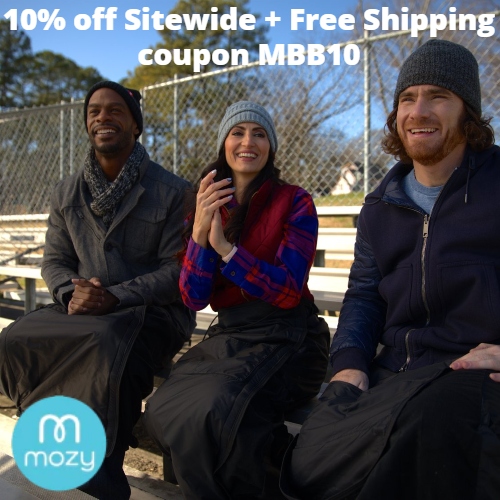 Are you looking for a better way to cozy up & stay warm during outdoor activities? Check out the Mozy – the jacket for your legs! It's the perfect weatherproof layer for your legs that moves with you as cheer at your kid's games, hanging out by the fire, or going for an evening stroll.
Unlike blankets, Mozy gives you the freedom to get you on your feet without losing your heat. It snugly fastens around your waist and leaves your hands free so you can get up and cheer, stretch your legs, grab a drink from the cooler, and even take a walk – all without your blanket falling to the ground and freezing your tail off!
Mozy's snag-free hook and loop border creates a seal that's easy to adjust and open, while keeping you dry and comfortable. The patent-pending design effectively prevents convective heat loss with concealed elastics that conform to your body to keep the warm fleece lining close to you and eliminate cold air pockets while the durable outer shell blocks wind and water.
The Mozy also features easy-to-reach multifunctional pockets and carabiner clips to secure all your outdoor essentials like water bottles, keys, hats & gloves, and cell phone.
The Mozy comes in 4 different styles for different climates. They are available in multiple sizes, including youth sizes, and you can personalize them with custom patches that easily hook to the front pocket, allowing you can change up your style as often as you'd like.
Get 10% off Sitewide at Mozy using coupon MBB10. Shipping is Free on all orders – No minimum purchase required. The Mozy comes with a 120-day money back guarantee.
1