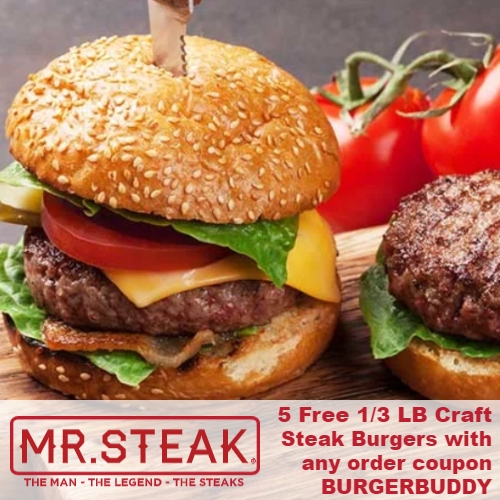 Mr. Steak Coupon
Today: Up to 15% off + 5 Free 1/3 LB Craft Steak Burgers with any order
Coupon: BURGERBUDDY
Expires: 6/4/20
SHOP NOW
Based in Colorado and family-owned and operated, Mr. Steak brings steakhouse quality meats to your home at a fraction of the cost of a traditional steakhouse and much higher quality than a grocery store. Their USDA Prime and Choice steaks are pasture raised and finished on corn and grain for the best marbling, texture, and flavor.
They offer one time purchases and subscription boxes. You can can build your own box or choose a box curated by Mr. Steak. Meats are frozen and individually vacuum sealed to lock in freshness. They're shipped in a 100% biodegradable midwestern grown corn-based cooler and recycled shipping box.
Spend $200 get 5% off, spend $275 get 10% off, spend 350+ get 15% off + Get 5 Free 1/3 LB Craft Steak Burgers ($19.95 value) with any order at Mr. Steak using coupon BURGERBUDDY.
For every box of steaks purchased Mr. Steak provides a nutritious meal to hungry children, families, and individuals across their local Colorado Community.
1