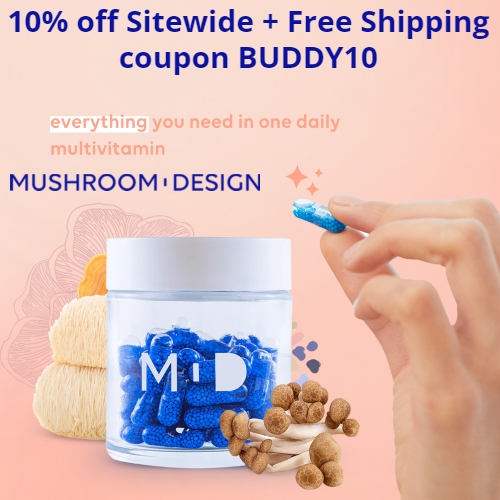 Mushroom Design offers a first-of-its-kind multivitamin that's powered by nature and perfectly dosed by scientists to support your immune system, enhance cognitive function, and boost your energy level naturally.
Many people take too many or too high a dose of vitamins each day, which can actually do more harm than good. Too much immunological support can stress your system and put your body into fight-or-flight mode. After years of researching and reformulating, Mushroom Design's experts created a multivitamin with ingredients that work together to help support and protect your body without overdosing.
Their innovative formula is made with a perfectly balanced bioactive blend of 9 immune-boosting mushrooms including chaga, lion's mane, and reishi and 9 cell-regenerating vitamins, like multiple B vitamins and vitamins C & D3.
Mushroom Design's multivitamin is made with high potency organic and naturally derived ingredients of the highest quality (even the bright blue color is natural – it comes from cabbage!) and their unique beads keep the mushrooms' nutritional content in it's natural state to provide maximum absorption, delivering the full benefits of each one.
Get 10% off Sitewide at Mushroom Design using coupon BUDDY10. All orders ship Free – No minimum purchase required! Coupon is not valid on subscription orders.
Mushroom Design is just as passionate about the planet as they are about your health. All of their packaging is made purely with plant products. The box is made out of 100% recycled cardboard, the ink used for printing is carbon-negative algae ink, their foam packing is 100% biodegradable non-GMO cornstarch that dissolves in seconds under water, and their vitamins come in a reusable glass jar on your first purchase that you just refill each month with their compostable refill pouches.
6