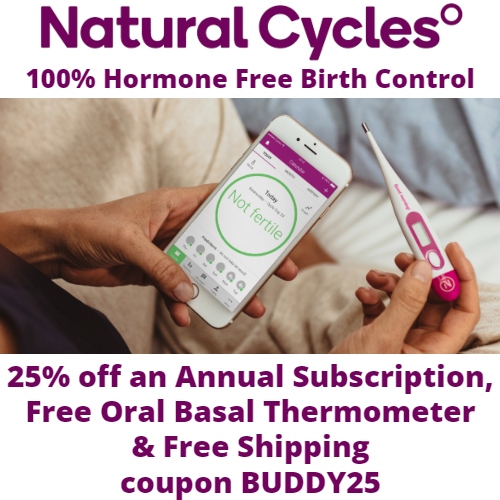 Are you sick of all the side effects from your birth control? Many birth control products can cause weight gain, acne, mood swings, and more. Natural Cycles gives you an effective, hormone-free, and side effect-free birth control option.
Natural Cycles is the first FDA cleared & CE Marked birth control app. Their app is powered by an algorithm that determines your fertility status based on basal body temperature.
Most fertility apps assume your cycle is 28 days long, meaning the fertile window they give you is not tailored to you. Natural Cycles' algorithm significantly reduces the risk of you being given an incorrect fertile day since it uses your personal data, not an assumed 28 day cycle – Which greatly reduces the risk of unwanted pregnancy. Clinical evidence shows a typical use effectiveness rate of 93% and a perfect use effectiveness of 98%.
Natural Cycles is super easy to use. When you wake up, simply take your temperature using the basal thermometer, add the reading into the Natural Cycles app, and their algorithm takes care of the rest. It uses temperature, period, and cycle data to quickly see if today is a green day (not fertile) or a red day (fertile/use protection). Your daily fertility status can be used to prevent pregnancy and also to help you plan pregnancy with greater precision when the time is right.
As a bonus, your Natural Cycles subscription also gives you tailored insights into your own unique cycle. You can add optional data throughout your cycle, including changes to mood, sex drive, PMS, and pain. Tracking symptoms allows you to learn even more about your unique menstrual cycle.
Get 25% off an Annual Subscription, Free Oral Basal Thermometer & Free Shipping at Natural Cycles using coupon BUDDY25.
Disclaimers: 18+ | NC° doesn't protect against STIs
5