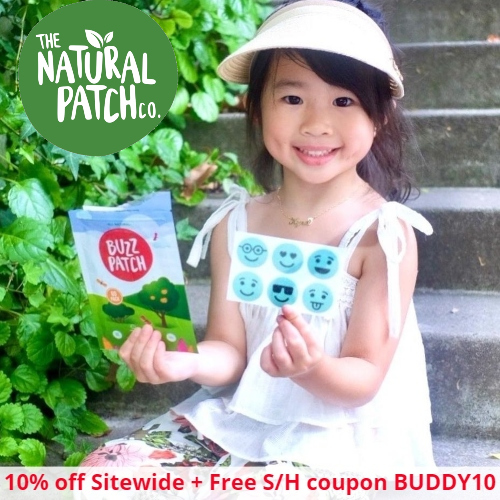 Natural Patch is a revolutionary, all-natural way to protect your family from pesky mosquitos. These colorfully designed stickers are made from medical grade tape and infused with citronella and lavender essential oils, making them a super safe, effective, and easy solution to keep the bugs away for up to 6 hours. Plus, kids love the fun designs! No more fighting to spray them down with bug repellent – simply peel, stick, and go!
Natural Patch also offers the Magic Patch – itch relief patches that are a non-chemical way to make the itch go away instantly! Their grid-relief technology adjusts the skin to help your lymphatic system drain the saliva injected by mosquitoes which causes the itch. Simply tear off a relief patch, place over the itchy area (just like a band-aid) and you'll feel relief from the itch within 30-60 seconds. Magic Patches also come in fun colors & designs that kids & adults will love.
Get 10% off Sitewide at Natural Patch using coupon BUDDY10. All orders ship Free – No minimum purchase required! All products come with a 30-day 100% money back guarantee.
The more you buy the more you save! You can save up to 47% before coupon when you purchase multiple packs of Natural Patch Stickers or Magic Patches.
How does Natural Patch work?
Mosquitos find humans by "smelling" the carbon dioxide (CO2) we emit when we exhale. Certain compounds, including specific essential oils like those found in Natural Patch's Buzz Patch Stickers, overpower the CO2 we emit, essentially hiding us from mosquitoes.
11