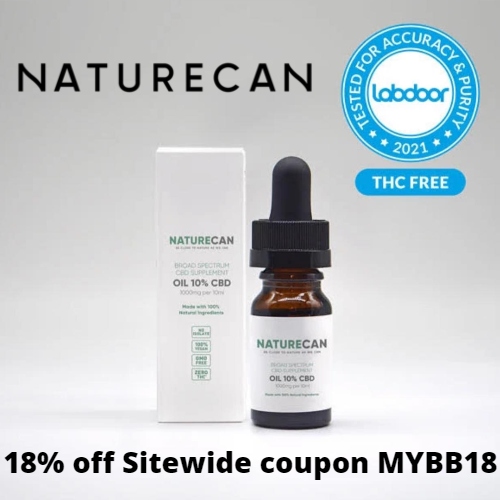 Naturecan offers natural, organic solutions for common health issues with their premium, safe, and effective hemp derived CBD products that are 100% natural and THC free. Their products are formulated to help with sleep issues, anxiety, pain, stress, and more.
Their product line includes a collection of CBD oils & CBG oils in many different strengths and blends, muscle balms, great tasting gummies, an all-natural skincare line, and CBD products for dogs, cats and horses.
Get 18% off Sitewide at Naturecan using coupon MYBB18. Shop soon – All products are currently up to 25% off (before coupon) for National CBD Day! Shipping is $4.99 or Free on orders of $49.99 or more. Coupon is not valid on subscription orders.
When using any Naturecan product, you can be 100% assured of the high purity of the CBD oil and 100% assured the oil was grown and produced in the USA. They have been tested and evaluated by Labdoor, the most renowned independent testing company, and given an A+ rating and 100/100 points on their official rating scale.
3