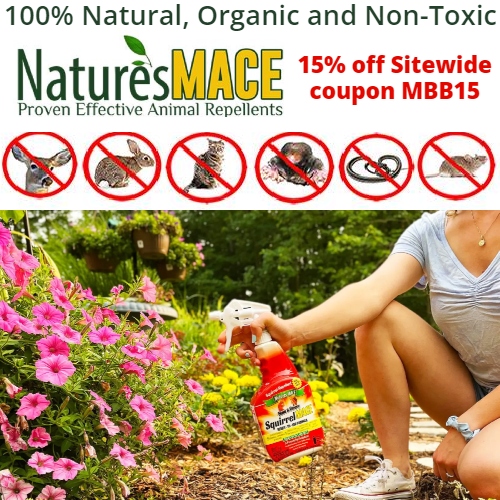 Nature's MACE is a veteran-owned & family operated company that provides powerful insect & animal repellents that are all-natural, safe for people & the environment, and proven to be highly effective.
Their mission is to provide an alternative to harmful & toxic pest control chemicals and to safely keep your backyard, garden, farm, play area, garage, and home pest-free.
They offer a wide range of 100% organic repellents for all types of pests, including deer & rabbits, rodents, snakes, moles & voles, raccoons, squirrels, dogs, and cats.
They also carry bed bug treatment & killer and outdoor insect control products that provide protection against mosquitoes, gnats, fleas, ticks, ants, spiders, aphids, flies, moths, crickets, no-see-ums, chiggers, Japanese beetles, and other unwanted outdoor bugs.
Get 15% off Sitewide at Nature's MACE using coupon MBB15. Shipping is Free on orders of $49 or more.
Nature's MACE is so confident in their repellents, they offer a 100% money back guarantee on all products!
3