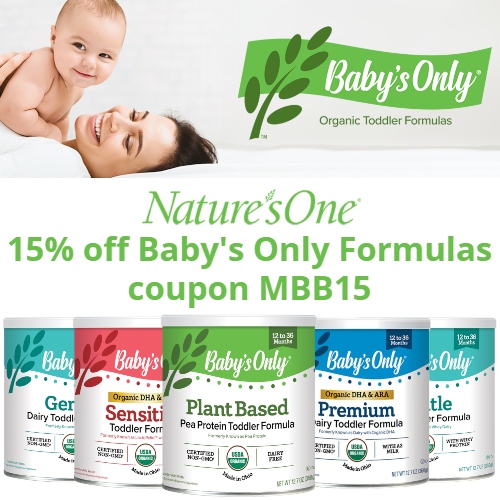 Ohio-based Nature's One offers organic baby products at affordable prices. They believe that every family should have access to organic nutrition and safe, sustainable baby products without breaking the bank!
Their premium quality Baby's Only® Formulas meet the nutrient requirements for infants set forth by pediatric nutrition experts, are as affordable as most generic brands, and they provide all the essential nutrients, like proteins, healthy fats, carbohydrates, and vitamins, that your little one needs to get the best possible start.
Baby's Only® Formulas are made with the highest quality, organic ingredients and are completely free of GMOs and filler ingredients that prioritize price over quality. In fact, Nature's One is so dedicated to your baby's health, they go beyond the regulatory requirements by testing all their formula ingredients for heavy metals and other contaminants that aren't healthy for your baby.
Baby's Only® Formulas are specially designed to help every child thrive – Whether your kiddo has food sensitivities, needs a plant-based or kosher option, or if you're just looking for a top quality dairy-based nutritional supplement, Nature's One is sure to have an organic formula that will fit their needs.
Get 15% off Baby's Only Formulas at Nature's One using coupon MBB15. All formula 12-packs ship Free! Coupon is not valid on subscription orders. Shipping is a flat rate of $7.95 on orders of $79 or more and market rate on orders under $79.
5