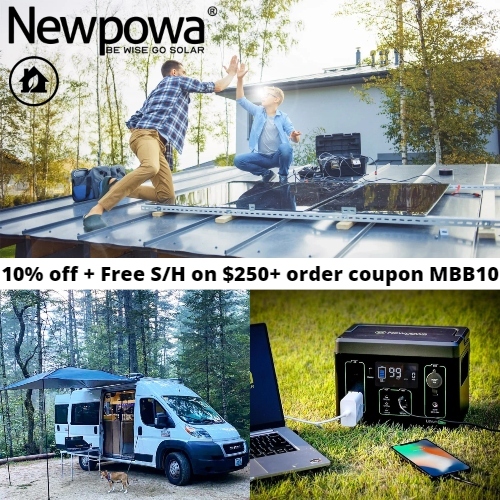 With over 10 years of experience in solar, Newpowa is a leading brand in off-grid solar energy. Their mission is to provide clean, safe solar energy to the world at affordable prices.
Newpowa products are made with the highest quality materials and the most innovative technology, without the hefty price tag of most solar energy products, giving you the perfect combination of value and performance.
Their full line of solar products has everything you need to get outdoors and off the grid. Whether you're looking to equip your RV, boat, or vehicle with solar energy or you just want some portable power for camping and other outdoor adventures.
Their products can also help reduce your carbon footprint & your electric bill at home! They're great for sheds, workshops, gate openers, irrigation systems, outdoor lighting, and more.
The Newpowa product line includes a large selection of solar panels ranging from 5Watt to 360Watts, mounts, controllers, inverters, generators, power banks, solar lights, and more.
Not sure where to start? Check out their Solar Kits. They offer RV/Marine Kits, Portable Power Kits, and Battery Maintainer Kits that have all the panels & accessories you need to get started.
Get 10% off and Free Shipping on your order of $250 or more at Newpowa using coupon MBB10.
All solar panels come with a 2-year workmanship warranty plus a 90% power output warranty for 10 years and 80% power output warranty for 25 years. All other products come with a 1-year limited material and workmanship warranty.
4