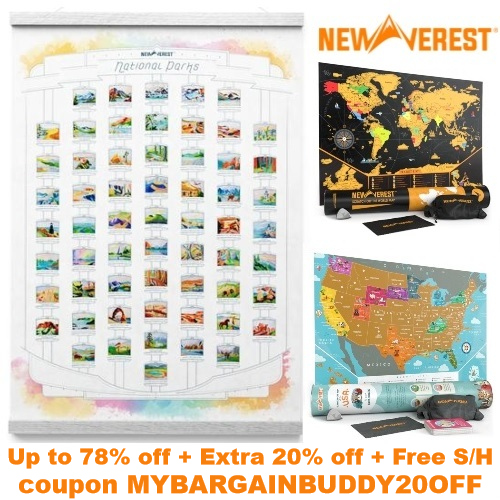 Newverest wants to inspire people to explore the world, search for new horizons, and achieve your biggest dreams. Everyone's goals are different. For one person, their "New Everest" might be to leave their hometown and visit a neighboring state. For others, it could be to set foot in Antarctica. Facing your fears and living life to its fullest is what Newverest is all about. Newverest scratch off map posters are a fun way to keep track of adventures, set new goals, and keep your memories alive.
With these awesome poster maps, you can easily see where you have been and where you want to go next. They make beautiful home and office décor. Just add a frame and turn your memories into a work of art! They are also great conversation starters and top-rated gifts for travelers and educators.
Newverest maps are printed on premium 250GSM paper, making them extremely durable. They come with all the accessories you need to get started, including a gift tube, scratch tool, carrying bag, and microfiber cloth. You can choose from world maps, maps for kids, national park maps, U.S. maps, and a major league ballpark scratch off poster.
The entire store is on sale right now + you can get another 20% off Sitewide at Newverest using coupon MYBARGAINBUDDY20OFF. All orders ship Free and all maps come with a 100% satisfaction guarantee.
Prices on items below are after coupon –
Scratch Off USA Map for Kids : $16 + Free S/H (reg. $49.97)
USA Traveler's Scratch Off Poster : $16 + Free S/H (reg. $49.97)
U.S. National Parks Scratch Off Posters : $23.98 + Free S/H (reg. $54.99)
Major League Ballpark Scratch Off Poster : $23.98 + Free S/H (reg. $54.99)
7