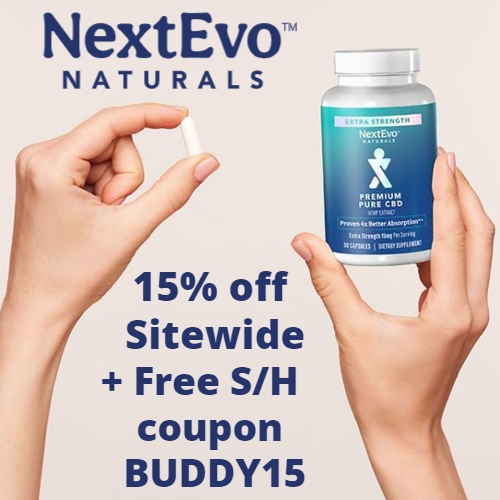 CBD is naturally oil-soluble, making it hard to be absorbed by our bodies. Which means you may not be getting the full benefits from your CBD supplements. NextEvo is on a mission to change that!
With a team of R&D experts, scientists, and healthcare professionals, NextEvo has discovered a proprietary formulation that maximizes absorption – Smartsorb™. It works by combining the elements of extraction, emulsion, and formulation in a way that has been proven to optimize absorption and work faster. It gets into your system in as little as 10 minutes.
Crafted with their Smartsorb™ bioavailability technology, NextEvo is the only herbal supplement brand with 4x better absorption than oil based formulations and is clinically proven to deliver next-level wellness.
Their product line includes Premium Pure CBD Capsules in regular & extra strength and Triple Action CBD Sleep Capsules that are formulated with melatonin to give you a great night's sleep and help you wake up feeling refreshed and ready to take on the day.
Get 15% off Sitewide at NextEvo using coupon BUDDY15. All orders ship Free – No minimum purchase required! All products come with a 30-day guarantee. Coupon is not valid on subscription orders.
All products are made in the USA with US grown hemp in an FDA-inspected, GMP-certified facility. They are 100% THC free, vegan, gluten free, non- GMO, and 3rd party tested for safety & purity.
3