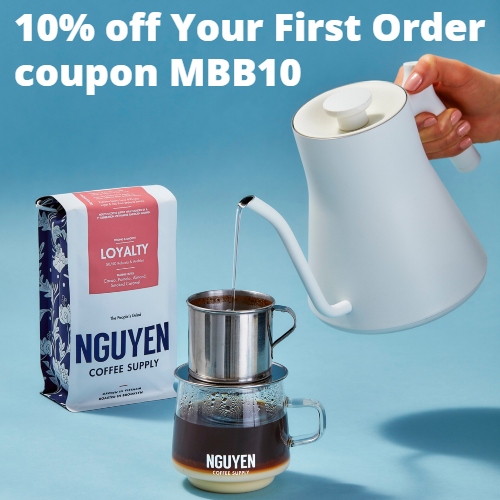 Founded by award-winning roaster, Sahra Nguyen, Nguyen Coffee Supply is America's first specialty Vietnamese coffee importer & roaster.
They are on a mission to change the future of coffee culture through sustainability, cultural integrity, and celebrating diversity in the coffee community by championing the Vietnamese robusta bean and supporting the Vietnamese farmers behind the world's second largest coffee production.
Nguyen Coffee Supply imports their premium coffee beans via direct-trade relationships with local farmers in Vietnam and freshly roasts them in Brooklyn, New York, providing a super fresh, delicious brew.
Their signature roasts feature both the specialty arabica bean of Vietnam (comprising less than 10% of the country's coffee production) and the famed robusta bean. They have 6 roasts to choose from, so there's something to suit every palate. Some of their most popular roasts include:
Moxy – Perfect for those who prefer a sweet and fruity brew. Moxy consists of 100% arabica beans that provide an unmatched coffee drinking experience.
Loyalty – For those looking for a bold and nutty brew with a smooth finish. This blend brings together the distinct characteristics of Vietnam's arabica and robusta beans for the perfect balance.
Saigon – This roast is a perfect blend of tradition and new energy, made to represent the most dynamic and progressive city in Vietnam – Saigon. It showcases the unique qualities of both robusta and arabica coffee beans with flavors of salted cacao, blackberry, and hazelnut.
Trugrit – Their strongest coffee, a 100% peaberry robusta with 2x more caffeine than Moxy!
For a traditional Vietnamese coffee drinking experience, check out their sustainable Phin Filters. They are easy to use, there's no paper waste, and they're extremely versatile. You can make a strong & flavorful Vietnamese espresso, or use more water for a regular cup of coffee.
Get 10% off your first order at Nguyen Coffee Supply using coupon MBB10. Coupon is valid on one time purchases and will also apply to the first shipment on a subscription order. Shipping is $5.50 or Free on orders of $50 or more. Coupon is not valid on gift cards.
1