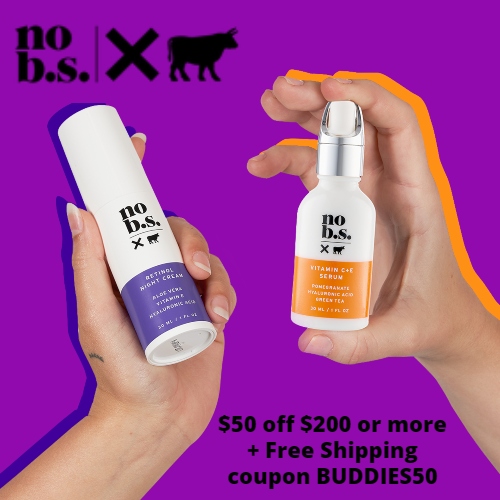 No BS Skincare offers top quality skin care products that provide real results. Using a mixture of nature and science, they create potent formulas with clean ingredients that are specially formulated for almost any skin situation, including fine lines & wrinkles, acne, hydration, darks spots and melasma, and sun care. Their extensive product line includes cleansers & toners, facial serums & treatments, moisturizers, eye cream, masks, and more.
No BS uses only the best and safest ingredients in their products. They are paraben, phthalates, & sulfate free, they use no synthetic fragrances or harmful petrochemicals, and they are vegan and cruelty free. The FDA bans 11 toxic and harmful ingredients from skincare products – No BS Skincare has banned 1,500 from theirs, so you know you are getting a truly safe product!
Get $50 off your order of $200 or more at No BS Skincare using coupon BUDDIES50. Coupon will work on bundle deals, which are already up to 40% off. All orders ship Free and come with Free samples!
2