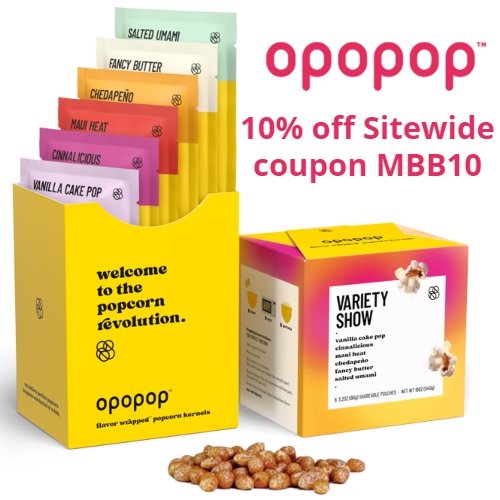 Opopop makes delicious "flavor wrapped" gourmet popcorn like you've never tasted before! They are on a mission to liberate you from boring popcorn with unexpected flavors, new ways to pop, and a complete reinvention of your favorite snack!
Each of their kernels are individually bathed in flavor using their super-secret, proprietary flavor delivery process. It's the perfect mix of gourmet ingredients wrapped around each kernel to give you a burst of flavor with every bite.
Opopop is committed to quality, that's why they grow every kernel of their popcorn themselves. Each seed is skillfully planted, nurtured, harvested, and combined with premium ingredients to bring you a flavorful, guilt-free snack. From seed to pop, this popcorn never leaves their sight.
Their gourmet popcorn comes in 7 mouthwatering flavors –
Vanilla Cake Pop – This sweet vanilla flavored treat is craveably delicious.
Cinnalicious – Because popcorn in the am is totally a thing.
Maui Heat – Hot like lava, sweet like pineapple.
Chedapeno – Cheezy and spicy.
Fancy Butter – Pure buttery flavored perfection.
Salted Umami – Umami translates to "pleasant savory taste" – can't stop eating it, don't know why.
Lightly Salted – Classic popcorn that hits the spot every time.
Try all of the Opopop flavors with the Variety Show Discovery Kit. You'll get one family size pouch of each flavor plus a microwave popcorn popper with lid!
Get 10% off Sitewide at Opopop using coupon MBB10. 2-Day shipping is Free on Discovery Kits and $5.99 on all other orders.
Be sure to sign up for their Rewards Program so you can earn points and get exclusive rewards every time you shop.
6