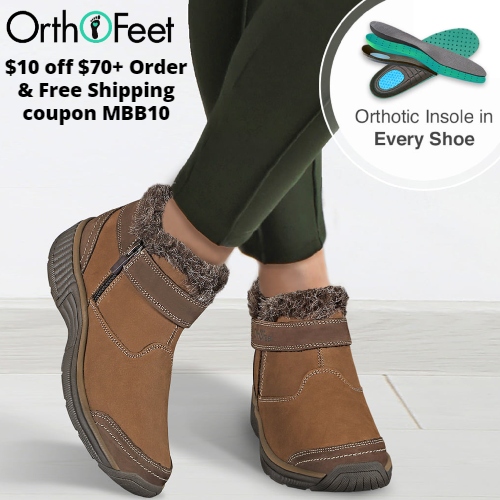 OrthoFeet offers men's & women's shoes that are biomechanically engineered with unique features to alleviate foot discomfort for individuals with various conditions, such as plantar fasciitis, bunions, diabetes, arthritis, neuropathy, and more.
Their state-of-the-art footwear technology and innovative shoe construction have helped millions of people improve mobility and relieve heel, foot, knee & lower back pain.
OrthoFeet shoes include orthotic insoles with anatomical arch support that helps relieve heel & foot pain by reducing pressure on the bottom of the foot and providing extra support for flat feet.
They also help alleviate corns & calluses and soften impacts to make walking less painful and add a spring to your step. Plus, they are made with anti-microbial fabric & foam that wicks away moisture and bacteria. Each pair also includes two sets of removable spacers to ensure you get a perfect fit.
Their shoes come in tons of styles & colors to keep you comfortable, no matter the occasion! Styles include sneakers, work shoes, sandals, dress shoes, boots, slip-ons, slippers, and more.
OrthoFeet also offers stand-alone orthotic insoles for all types of shoes & foot concerns, seam-free socks, diabetic socks, compression socks, and more.
New customers can get $10 off an order of $70 or more at OrthoFeet using coupon MBB10. All orders ship Free – No minimum purchase required!
All shoes & insoles come with a risk-free 60-day wear test. You can test out your new shoes or insoles for up to 60 days from the purchase date and if you're not completely satisfied, simply return them for a full refund – OrthoFeet will even pay for the return shipping!
2