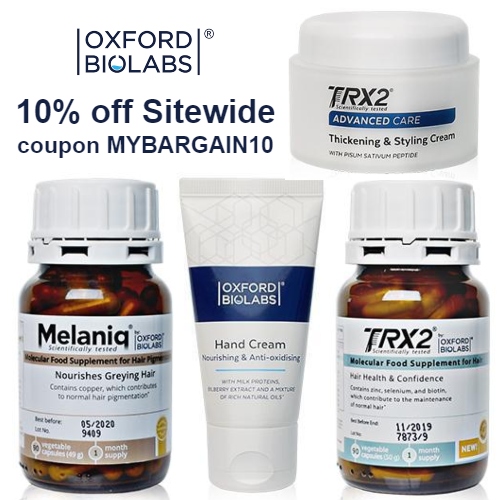 Oxford Biolabs develops a range of naturally based products aimed at helping people avoid unwanted signs of aging, such as hair loss, premature greying, and skin aging. It was founded by a group of scientists formerly of the University of Oxford under the leadership of Dr. Thomas Whitfield. All their products are scientifically tested, drug-free and backed by world class research.
Their TRX2 products are a safe, naturally based hair regimen that encapsulates the latest scientific knowledge of molecular mechanisms of hair thinning and loss. TRX2 includes vital nutrients that nourish hair at a molecular level. This innovative, drug-free supplement works by facilitating the transport of nutrients into the hair follicle. Since 2010, TRX2 has helped more than 20,000 men and women in over 110 countries love their hair again. It is available in the form of a capsule and a topical lotion.
For those experiencing premature greying, greying in general, and those looking to prevent greying before it starts, Oxford Biolabs offers their amazing Melaniq supplement that is scientifically proven to keep greying hair at bay.
Oxford Biolabs also offers eyelash serum, hand cream, and supplements for youthful skin, and their TRX2 Advanced Care line, which includes a thickening & styling cream, shampoo, and conditioner. The Advanced Care line applies the latest scientific knowledge on plant-based oils, extracts, and nutrients to revive limp, thin hair and add weightless volume to give hair a boost.
Get 10% off Sitewide at Oxford Biolabs using coupon MYBARGAIN10. All products come with a 60-day money-back guarantee. U.S. Shipping is Free on all Supersaver auto delivery orders and regular orders over $119. For all other orders shipping is a flat rate of $14.95.
6