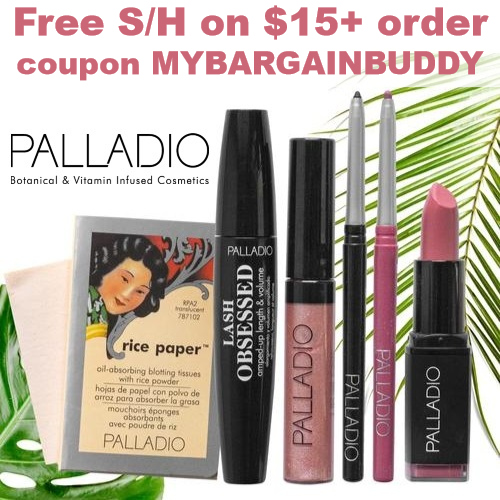 For over 25 years, Palladio Beauty has been renowned for their line of cosmetics enriched with herbs and vitamins. Created for women of all ages with all types of skin, Palladio Beauty helps you look radiant, while protecting your skin from signs of aging with antioxidants such as ginseng, green tea, gingko biloba, vitamin E, and skin soothers like aloe vera and chamomile.
Palladio Beauty offers a full line of cruelty-free, paraben-free, and affordable cosmetics for your face, lips, and eyes, as well as makeup kits, skincare face masks, tools & brushes, and vegan & gluten-free products. Their diverse selection of innovative products, depth of shades, and luxurious textures allow you to achieve any look or new trend you'd like try.
Get Free Shipping on $15 or more at Palladio Beauty using coupon MYBARGAINBUDDY. Coupon will work on clearance items, which are currently up to 71% off!
All products come with a 30-day guarantee. If you're unhappy with any item, simply return the unused portion within 30 days of the purchase date and they'll exchange it for a product of equal or lesser value – no questions asked.

4