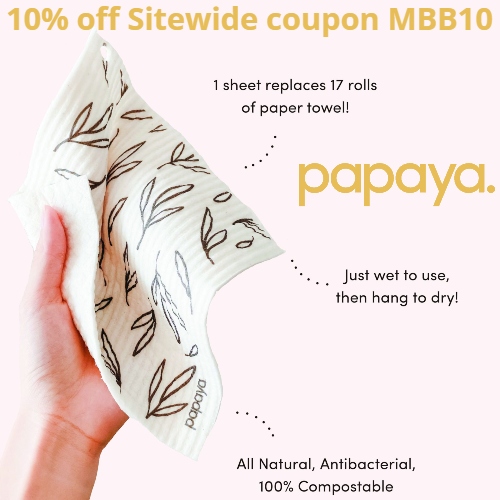 Papaya is reusable paper towel that not only replaces 17 rolls of wasteful paper towels, it's strong enough to replace bacteria-filled sponges, and smelly nonabsorbent dish rags as well!
These zero waste paper towels are all natural, antibacterial (so they don't get that mildew smell) and compostable! They're 20x more absorbent than average paper towels, so they don't just move the mess around, they actually absorb the bacteria, germs, and pathogens from your surfaces and transfer them to the waste water when cleaned.
Bacteria thrives in damp environments. So unlike dish towels, wash cloths & sponges that stay damp for hours, Papaya reusable paper towels dry so quickly, bacteria doesn't have time to grow.
Your Papaya paper towel will feel a little bit stiff when it's dry. Simply wet it to soften it up and use it like you would a regular paper towel or dish towel. When you're finished, hang it on the handy little hook to keep it fresh, odor-free, and ready for the next mess. When it needs to be cleaned, you can just throw it in the washer or the top rack of your dishwasher.
In addition to being eco-friendly and convenient, Papaya paper towels are also super cute! They come in a variety of fun prints that will add a splash of color to your kitchen.
Get 10% off Sitewide at Papaya using coupon MBB10. Coupon is valid on one time orders and will also apply to the first shipment on a subscription order. Shipping is $5 or Free on orders of $33 or more.
If you love Papaya reusable paper towels, consider a subscription! You'll get a discounted rate on every shipment and ensure you always have a fresh Papaya when you need one. There are no commitments. You can pause or cancel anytime.
2